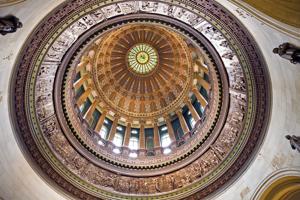 Lawmakers discuss proposals for spending additional $350 million for K-12
A meeting of the Illinois State Board of Education Professional Review Panel has been delayed by a week.
The meeting, now Dec. 13, is expected to take up recommendations on how to spend an additional $350 million.
Democratic state Rep. Will Davis says the proposals prioritize additional funding on racial equity and inclusion.
Republican state Rep. Avery Bourne warned the proposal would mean funds are diverted from other schools toward Chicago schools.
License plate reading cameras proliferate across Illinois
A license plate reading camera company is securing contracts with law enforcement agencies and private operations across the state, and they'll all be able to share plate and location information.
A sales representative for Flock Safety told aldermen in Springfield last week the cameras are being implemented all across Illinois.
They also sell the technology to shopping malls and homeowner associations.
Site ranks naughty cities, Chicago nabs 9th place
Two major cities sandwiching Illinois are among the most naughty in the nation, in a review by WalletHub.
The consumer finance website reviewed 180 cities across the country on a variety of metrics like violent crimes per capita, excessive drinking, gambling and more.
While Las Vegas, Nevada, was ranked No. 1, St. Louis, Missouri, ranked No. 2. Chicago ranked No. 9.
COVID-19 cases, hospitalizations increase
Positive COVID-19 cases and hospitalizations are higher in the last week than from the weeks prior.
The Illinois Department of Public Health also says 36% of eligible Illinoisans have gotten boosters.
While they don't track the total number of cases of vaccinated people getting COVID-19, IDPH does show more than 3,700 breakthrough cases led to hospitalizations and 1,075 vaccinated individuals have died of COVID-19.
The state has also had to scrap more than 570,000 doses as unusable.
Four people plead guilty to mail fraud involving Illinois Department of Human Services
Four people have pleaded guilty to mail fraud, wire fraud and money laundering involving the state of Illinois.
According to the U.S. Attorney's Office, the charges were related to schemes involving the submissions of fraudulent claims for childcare services to the Illinois Department of Human Services, resulting in a loss of around $1,300,000 to the state of Illinois and the U.S.A.
Four defendants remain free on bond pending sentencing.
Obesity rate increases in Illinois
Obesity rates continue to rise in Illinois.
A new report from Trust for America's Health found more than half of adults in every state were either overweight or had obesity in 2020, the most recent data available.
Illinois ranked in the middle of the pack, with more than 32% of adults in the state considered obese.
That's up more than five points in the past decade.