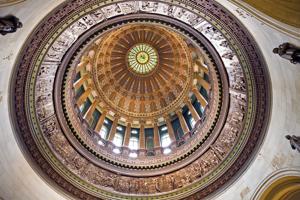 Pritzker not considering halt to elective medical procedures 'right now'
Gov. J.B. Pritzker says shutting down elective medical procedures in response to the omicron COVID-19 variant isn't on his list "right now," but said "every day something new has come about with this disease."
The governor said the Illinois Department of Public Health continues to sequence COVID-19 cases for whether the variant is in Illinois.
Reports elsewhere indicate the omicron symptoms in vaccinated people have been mild.
Republican lawmaker files bill to let Illinoisans opt-out of vaccine requirements for religious, medical reasons
Illinoisans wanting to opt-out of COVID-19 vaccine requirements would be able to use religious or other medical beliefs as their objection under a measure filed at the statehouse this week.
Republican state Rep. Adam Niemerg said he's heard from healthcare workers from around the state seeking legislative relief. He said if you mandate the vaccine, you'll get fewer hospital staff.
If it's optional, he said staffing won't be a problem.
Students struggle amid ongoing COVID-19 pandemic
With the latest school- and district-level data out for the previous school year, taxpayers can now see how their schools performed.
The Illinois State Board of Education says student achievement in math and English dropped around 17% combined.
The metrics at IllinoisReportCard.com will help guide local decisions on how to spend more than $7 billion.
State to send $300 million to child care providers
Another $300 million is going out in child care grants. That puts the state at more than $1 billion total for such funds since the start of the pandemic.
Gov. J.B. Pritzker announced the additional dollars will go to child care providers around the state with nearly $50 million going to operations that had previously received grants.
A previous program of the state giving a $1,000 bonus to eligible child care workers is in the process of being paid out for a total of $100 million.
Working-age people leaving Illinois
Working-age Illinoisans continue to relocate to other states.
An analysis by the University of Illinois Extension looked at demographic trends and revealed the number of people aged 25 to 39 in Illinois decreased, one of the few states in the country to see a decline.
Illinois also lost population in the 40 to 59 age group. Illinois is one of three states that lost population over the past decade.
'Home Alone" house in Winnetka up for Airbnb booking
How would you like to slide down the stairs like Kevin McAllister did in the film "Home Alone?"
The holiday movie about a young boy accidentally left alone in his Chicago-area home recently marked its 31st anniversary.
Now the McAllister's Winnetka home is on Airbnb and one lucky family will have a chance to stay in the house for one night. The booking opens on December 7 and costs $25.