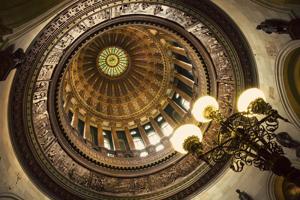 State spends more than it takes in
An analysis shows that Illinois was one of eight states where spending exceeded long-term revenue before the infusion of federal COVID dollars. Pew Charitable Trusts research shows Illinois took in enough to cover just 94% of its expenses during the 15 years before the pandemic. That figure is the second smallest percentage in the country behind New Jersey.
Hey, BIG spender
Illinois gubernatorial candidates are expected to use traditional media like TV and radio to get their message out. But, millions have already been spent on social media outlets such as Facebook, mostly by incumbent Gov. J.B. Pritzker. Facebook data shows a page funded by Pritzker called "Illinois Daily" spent more than $1.9 million. Nearly $87,000 was spent in the last week. The Republican candidates for governor in the past week have spent a fraction of that for a total of $2,700.
The deposition won't be televised
No cameras in the courtroom in Chicago for the case against actor Jussie Smollett that starts today. Smollett faces charges of disorderly conduct for allegedly making up a hate crime in early 2019. The charges were initially dropped by Cook County State's Attorney Kim Foxx. Special prosecutor Dan Webb brought the new charges.
State rakes in sales tax
Illinois' sales tax revenues are higher than this time last year, in part thanks to collecting sales taxes from online sales. Rob Karr, with the Illinois Retail Merchants Association, said such collections ensure government services are not underfunded and that local retailers aren't discriminated against by remote retailers. Numbers from the state comptroller show all sales taxes are up more than $1 billion so far this fiscal year compared to the first four months of the previous year.
About that Facebook check…
That check from Facebook for violating Illinois' Biometric Information Privacy Act by cataloging faces without permission isn't in the mail yet. It could still be a while. Despite that, the case appears to be having other impacts. While the delay may be frustrating, Meta announced earlier this month Facebook will no longer use facial recognition "as part of a company-wide move to limit the use of facial recognition in our products."
Helping the incarcerated get carded
Recently incarcerated individuals are leaving prison in Illinois with a tool the Secretary of State says will help them re-enter their communities. Secretary of State Jesse White's office said the State ID Program for Returning Residents starts the process six months before a prisoner is released by lining up necessary documents. The program is expected to serve 27 IDOC facilities by April 2022.