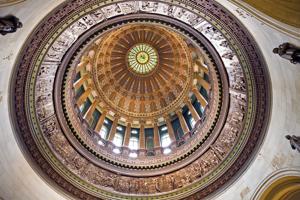 School board groups in Illinois, other states revolt over parent directive
The Illinois Association of School Boards is part of a growing number of state school board groups cutting ties with a national organization that likened parents protesting at meetings to domestic terrorists.
The National School Boards Association has been under fire after it sent a letter to federal officials in September.
The Illinois Association of School Boards voted last week to end its membership with the NSBA.
Illinois hedge fund owner buys copy of U.S. Constitution for $43.2 million
Billionaire hedge fund owner Ken Griffin bought a hand-written copy of the U.S. Constitution at auction.
The Illinois-based Citadel owner paid $43.2 million for the historic document and outbid a group of digital currency investors, according to the Wall Street Journal.
Griffin plans to lend the document to a museum in Arkansas.
State launches new vaccine awareness campaign
With the holiday season fast approaching, the state of Illinois is launching a new awareness campaign promoting the COVID-19 vaccine as the "greatest gift" you can give this year.
The video ad campaign promotes kids 5 years and up to get the shot.
The Illinois Department of Public Health issued guidance that said vaccinated families can safely return to treasured traditions, while unvaccinated individuals are urged to get vaccinated.
About 5,600 new COVID-19 cases reported in Illinois
There were around 5,600 new COVID-19 positive cases reported last week than the week before, for a total of 28,280.
The Illinois Department of Public Health reports the state's positivity rate also increased to 3.2% from 2.5% the week prior.
The latest vaccine breakthrough data shows in total 3,272 vaccinated individuals have been hospitalized with COVID-19. Around 980 vaccinated individuals have died of COVID-19.
Orland Park Mayor announces Congressional bid
A suburban Chicago mayor is announcing he's running for Congress.
Orland Park Mayor Keith Pekau is set to announce he's running for congress for the 6th Congressional District.
Pekau made headlines during COVID-19 for publicly criticizing what he said was the governor moving the goalposts.
A media announcement says he's running to "take on extreme Washington politicians" and to "put people over politics."
Illinois ranks 12th for electric vehicles
Illinois is ranked overall 12th in the nation for electric vehicles. That's according to Bumper.com, a vehicle history report website.
The group reviewed all 50 states on a variety of factors.
Illinois ranked second for EV incentives, but 35th for EV infrastructure, 34th for the availability of charging stations and 36th for charging station growth.