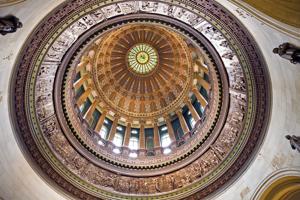 Schools seek more local control from state amid pandemic
Despite a state mandate, more schools are modifying their back-to-school COVID-19 policies to make masks recommended, not mandated. Vandalia schools approved a mask-optional policy earlier this week.
St. Elmo schools decided on such a policy change Thursday.
This comes as a group of education professionals from across the state addressed the Illinois State Board of Education saying they need local control on such issues.
Illinois Supreme Court deadlocks on Deerfield assault weapon ban
The Illinois Supreme Court couldn't come to a conclusion on a case challenging an Illinois municipality's ordinance banning certain types of rifles.
Deerfield issued the so-called "assault weapons" ban in 2018. A lawsuit challenging the constitutionality made it to the state's high court.
On Thursday, the court said with a justice recusing himself and remaining members divided, it wasn't able to come to a decision and dismissed the appeal.
Employees reach contract deal with John Deere
Union employees at John Deere have approved a new contract after more than a month of being on strike.
The contract includes raises and other changes to previous proposals.
The work stoppage began Oct. 14 and impacted Deere operations in Illinois and elsewhere.
Director fired after Inspector General report
The executive director of the Illinois Law Enforcement Training and Standards Board is out of a job after the Office of the Executive Inspector General found malfeasance for improperly issuing law enforcement credentials.
The Chicago Tribune reports Brent Fischer was subsequently fired from the position for giving certification to Howard Buffett after Buffett donated to the agency's training efforts.
Illinois unemployment above national average
Illinois' unemployment rate has declined two-tenths of a percentage point to 6% from the prior month, but the state's October rate is still higher than the national average of 4.6%.
The Illinois Department of Employment Security said the most job gains came in professional and business services with the most declines in information and educational and health services.
Thanksgiving meal could cost more this year
The cost of thanksgiving this year in Illinois is more than the national average, both of which are up.
The American Farm Bureau Federation says the national average cost for a family of ten to enjoy Thanksgiving is up 14% to $53.31.
The Illinois Farm Bureau says a feast for ten in Illinois comes in at $58.15, or 8% higher than that national average. The price of a 16 lb. turkey in Illinois is nearly $3 more than the national average.