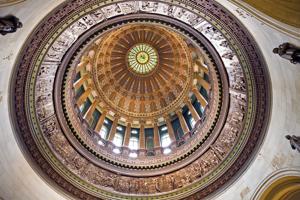 Illinois groups praise federal infrastructure bill
Various groups from Illinois are applauding the enactment of the federal infrastructure bill.
The Illinois Chamber of Commerce said the measure fulfills a generational pursuit of adequate investment in infrastructure, including waterways, rail and cybersecurity.
The American Council of Engineering Companies of Illinois said the $17 billion lined up for Illinois has engineers ready to get to work.
Nursing homes continue to struggle with staffing issues
A report shows long-term care facilities are experiencing staffing shortages more than any other health care profession.
The report by the American Health Care Association and the National Center for Assisted Living shows employment levels at nursing homes have dropped 14% or 221,000 jobs since the start of the pandemic.
Illinois has about 1,200 long-term care facilities serving more than 100,000 residents.
Northwestern University report potential breakthrough treatment for spinal cord injuries
Researchers at Northwestern University say they have discovered a breakthrough treatment for spinal cord injuries.
When injected into mice, so-called "dancing molecules" mimic the motion of and communicate with biological cells, sending signals to trigger cells to repair and regenerate, which could improve outcomes for those paralyzed after suffering severe spinal cord injuries.
Jury to decide Rittenhouse case
A Kenosha, Wisconsin, jury will decide the murder and attempted murder charges filed against Illinois teenager Kyle Rittenhouse.
The case stems from events last summer during civil unrest. Rittenhouse's defense attorneys say he shot and killed two people and wounded another in self-defense.
The judge in the case dismissed the gun charges saying the gun is within legal standards and not a short-barreled firearm.
Pritzker signs elections bill
Gov. J.B. Pritzker enacted a measure that prohibits candidates for judicial elections from accepting out-of-state donations and anonymous donations during campaigns for judicial prepositions.
The governor's office announced he signed Senate Bill 536, noting the measure also makes changes to various dates regarding the 2022 election cycle and creates a task force about access to voting for people with disabilities.
Illinois towns makes list of safest college towns
A new report said Illinois is home to five of the country's safest college towns. SafeWise analyzed FBI crime data in 422 towns across the country.
Lisle, Edwardsville, Charleston, Elmhurst and Wheaton made the top 50.
Illinois had the third most college towns to make the list, following Massachusetts and California.