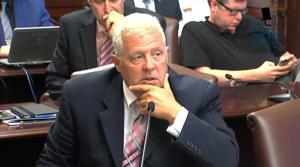 (The Center Square) – The Illinois State Board of Elections Tuesday dismissed a longstanding case against Auditor General Frank Mautino that alleged he violated campaign finance laws during his time as a state lawmaker.
The plaintiff in the case said officials turned a blind eye to corruption.
Before becoming Auditor General, Frank Mautino was a longtime Democratic state Representative.
The Illinois Supreme Court found Mautino's campaign fund from the time he was a state lawmaker violated campaign finance law. The case was filed in 2016 by Illinois citizen David Cooke. Among other alleged violations, Mautino's campaign fund was paying for gas for campaign-related trips when it should have been reimbursing by mileage.
The state's high court in May sent the case back to the Illinois State Board of Elections.
"On May 20, the Illinois Supreme Court determined there was a violation of the Campaign Finance Act and remanded the matter to the Board to determine whether the committee's violation was 'knowing,' " said Illinois State Board of Elections' spokesman Matt Dietrich. "By a 7-0 vote, the board today found that the violation was not 'knowing.' "
Cooke said the board's vote Tuesday shows it is "corrupt beyond repair."
"The law means nothing and campaign finance oversight and accountability is impossible when the board ignores the law in the clear evidence of civil and criminal conduct by the Mautino campaign," Cooke said in an interview after Tuesday's board action.
Cooke said the board has been consistent in not addressing the violations.
"The board ruled against my complaint and clear evidence every time it was presented an opportunity to make a ruling," he said.
He continues to ask questions.
"Where is the U.S. Attorneys' office," Cooke said. "There isn't a clearer case of corruption in what they did."
In 2016, a spokesperson for Mautino acknowledged he was working with federal prosecutors but never elaborated and no charges have since surfaced.
Mautino became the Auditor General in 2016 for a ten-year term.