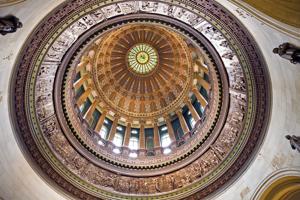 Pritzker to join Biden in Washington for bill-signing ceremony
Gov. J.B. Pritzker joins President Joe Biden and others in Washington D.C. this afternoon when Biden is expected to sign the $1.2 trillion infrastructure bill.
The measure gained bipartisan support, but opposing the move is Peoria Republican U.S. Rep. Darin LaHood.
He said the measure adds to the nation's deficit by more than a quarter trillion dollars.
Closing arguments underway in Rittenhouse trial
Prosecutors and defense attorneys are expected to wrap up closing arguments in the murder and attempted murder case against Illinois teenager Kyle Rittenhouse today.
The jury will then be instructed on what charges Rittenhouse may be convicted or acquitted on.
Rittenhouse faces murder and attempted murder charges stemming from unrest in Kenosha, Wisconsin, last summer.
His attorneys say it was self-defense from a mob wanting to harm their client.
Group asks Illinois Supreme Court to halt gun, ammo tax
Plaintiffs in the case challenging Cook County's tax on guns and ammo say they're asking the Illinois Supreme Court to halt the latest tax while constitutional questions are addressed.
The high court shot down the county's 2012 tax last month. The county reimplemented the tax, saying it believes it "assuaged" the court's concerns.
COVID-19 cases increase in Illinois
COVID-19 positive cases increased again after going down for weeks.
The Illinois Department of Public Health reports there were 22,600 new confirmed and probable cases across the state, more than 5,000 more than the week before.
The state's positive rate increased from 2.1% to 2.5% from week to week.
New measure would prohibit out-of-state money in judicial campaigns
A measure poised for the governor's desk would prohibit candidates in judicial elections from accepting out-of-state and anonymous donations during campaigns for judicial positions.
Senate Bill 536 the legislature during the veto session.
Republican state Rep. Ryan Spain said the measure is unconstitutional by prohibiting someone from making donations as a matter of free speech.
Temporary casino opens in northern Illinois as plans for others continue
A temporary casino is now open in the city of Rockford as preparations continue for a permanent Hard Rock facility.
The facility, named "Rockford Casino: A Hard Rock Opening Act," welcomed the public last week for the first time.
A former convention center now hosts two restaurants and more than 37,000-square-feet of gambling space, featuring more than 600 slot machines.