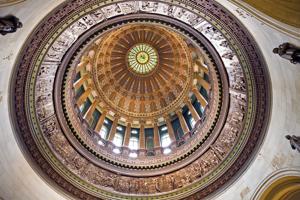 Attorney summons Pritzker in defamation case
Gov. J.B. Pritzker has been summoned in a defamation case filed by an attorney the governor called a "grifter."
Attorney Thomas DeVore's attorney filed the defamation case in Sangamon County late last month. A hearing has yet to be scheduled.
Last month, Pritzker called DeVore a "grifter," suggesting DeVore is tricking people for illicit purposes after DeVore filed a case challenging COVID-19 mandates.
Some claim Pritzker has executive immunity based on a case from decades ago, but DeVore said that case doesn't give the governor carte blanche to defame people.
Pritzker returns to Illinois
Gov. J.B. Pritzker is back in Illinois after his overseas trip to London and a climate summit in Glasgow, Scotland.
Pritzker will appear at Veterans Day events in Chicago.
Later in the day, he'll be at the grand opening of James Hardie Industries' new Chicago headquarters to promote manufacturing investment in Illinois.
Amid tight labor market, IDOT seeks dozens of snowplow drivers ahead of winter
The Illinois Department of Transportation is putting the call out for snowplow drivers.
Around 91 snowplow jobs through IDOT in regions across the state were listed as of Wednesday.
IDOT public information officer Paul Wappel said there are a lot of roads to clear in snow emergencies.
Billionaires Griffin, Pritzker continue to trade barbs
Two of the state's most wealthy people continue to jab at each other over politics.
After Gov. J.B. Pritzker called him a liar when he recalled a phone conversation during last summer's civil unrest, Citadel owner Ken Griffin said at an event Wednesday he is "all in" to support a candidate to beat Pritzker.
Pritzker's campaign responded by saying Griffin's comments won't deter the governor's re-election efforts.
The two have spent tens of millions on politics in Illinois in recent years.
Specialty crop block grants available
More than $783,000 in specialty crop block grants are being made available through the Illinois Department of Agriculture.
The program aims to expand the availability of fresh, locally-grown produce. Applicants must file by 4 p.m. Nov. 29.
Secretary of State, other offices closed for Veterans Day
The Illinois Secretary of State is reminding residents driver's service facilities will be closed for Veterans Day.
Offices will reopen with normal business hours Friday.
The agency also tells people that, with the exception of commercial driver's licenses, all driver's licenses and ID card expiration dates have been extended until Jan. 1, 2022.