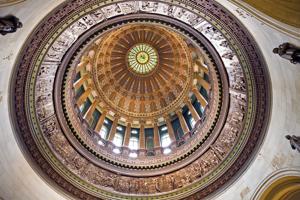 Family sues hospital to allow Ivermectin treatment
The family of an elderly man being treated for COVID-19 at Edward Hospital in Naperville has secured multiple court orders for a hospital to allow a family doctor to give their father the medicine Ivermectin.
But, the family says the hospital wasn't being cooperative. Man Kwan Ng's father Sun Ng was hospitalized on Oct. 14.
After several orders through the weekend, Ng did eventually get administered a few doses of the drug.
Still no action on addressing Illinois' $4.4 billion unemployment debt
Illinois is past due on its $4.4 billion unemployment trust fund debt, one of 11 states with such debt and the third-highest only behind California and New York.
The interest of 2.8% has the state on the hook for $10.7 million in interest payments for the current fiscal year.
Federal Reserve Bank report shows little change
A survey released this morning from the Federal Reserve Bank of Chicago shows little change in business conditions in October.
The Chicago Fed Survey of Business Conditions shifted slightly in a positive direction from September to October.
That was driven by non-manufacturing activity.
State fiscal projects improve
The fiscal projections for Illinois' state government show total expenditures of state funds will increase to nearly $50 billion by 2027, according to the Governor's Office of Management and Budget.
The increased costs are driven by a nearly $600 million increase in pension obligations expected to be paid out over that timeframe.
Most of the increase comes from K-12 education pensions.
ISBE offers $38 million for students experiencing housing insecurity
Schools with students experiencing housing insecurity in Illinois could see a share of $38 million from the Illinois State Board of Education.
The agency said the federal funding is meant to identify and support such students to bring about temporary living situations and provide them with services.
ISBE says there are around 32,300 students statewide that fit the criteria.
Comcast outages reported across country
It wasn't just you, or just Illinois. Comcast Xfinity users across the country experienced outages for their internet, TV, and phone services Tuesday morning.
The company said on social media some customers experienced service disruptions because of "unforeseen circumstances" and network issues, but didn't provide further information.