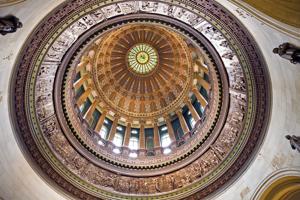 8,400 people in Illinois file for unemployment benefits
Nearly 700 more Illinoisans filed for initial unemployment benefits last week than the week before for a total of more than 8,400.
The total number of unemployment beneficiaries has decreased by nearly 28,500 from the week before to 122,500 in Illinois, but that's the third-highest in the country, behind only California and New York, according to the U.S. Department of Labor.
Number of overall ICU beds in Illinois down nearly 1,000
Throughout the pandemic, Illinois' total number of ICU beds has declined by nearly 1,000, despite recent waves of COVID-19 cases, and some don't think that makes any sense.
Wirepoints President Ted Dabrowski said the downward trend of total beds runs counter to why residents were told there need to be mandates such as indoor masks.
Hospitals say they base their bed availability on the daily situation.
Students opt-out of college
In what was expected to be a bounce-back year for college enrollment in Illinois, more students opted out.
A report from the National Student Clearinghouse Research Center shows undergraduate enrollment is down 1.1% this fall compared to last year, and down 8.1% compared to the fall of 2019.
Some Illinois universities reported big numbers with the incoming freshman class, but many undergraduates decided not to come back to campus.
Arroyo pleads guilty for accepting bribe
Former Democratic state Rep. Luis Arroyo now says he's guilty of accepting a bribe from a state Senator that was wearing a wire for federal investigators.
The charges came down more than two years ago while Arroyo was in office. He maintained his innocence until appearing by phone in a court hearing Wednesday, the Chicago Tribune reported.
Illinois ranks among top in nation for job quit rates
Illinois ranks seventh in the county in job quit rates after a record-setting August in which more than 200,000 Illinoisans quit their jobs.
The Illinois Policy Institute reports the national trend of workers leaving their jobs – called the Great Resignation – is more acute in Illinois than most states, and the worst in the midwest, and that's contributing to labor shortages.
State's COVID-19 metrics site continues to get adjustments
Data on Illinois Department of Public Health COVID-19 websites continues to be adjusted with a new design.
On Wednesday, the scale for the chart showing hospitalizations was double what the actual numbers totaled.
An official with the department said with a new web design, they continue to work out coding issues to ensure the correct data sets and chart scales are displayed.