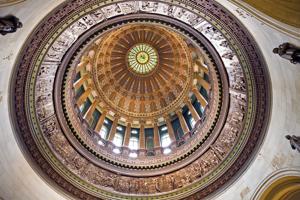 Judge rules vaccine mandate should be part of arbitration process
A Cook County judge ruled vaccine mandates must be part of the collective bargaining process for Chicago police.
The Chicago Tribune reported the judge ruled the city's testing mandate can remain in place, but the Dec. 31 deadline for officers to get the vaccine can't be enforced and must be negotiated or put through the arbitration process.
Masks lawsuits could be consolidated
Another attorney leading a case challenging the governor's mask mandates in schools says he too was under the impression the state agreed to consolidate similar cases in Macoupin County, not Cook or Sangamon counties.
Attorney William Gerber said his conversations with the Illinois Attorney General's office indicated the state agreed to Macoupin County where attorney Thomas DeVore had similar cases.
The Attorney General's office didn't respond to such claims when reached for comment.
Pritzker gets vaccine booster shot
Gov. J.B. Pritzker publicly received his COVID-19 booster shot today.
During a news conference in Chicago, the governor promoted vaccination and for those eligible to get the booster. Pritzker received the Johnson & Johnson vaccine earlier this year.
Lunar eclipse to happen Nov. 19
Mark your calendar for when you should stay up throughout the night to look at the night's sky.
In the early morning hours of Nov. 19, there will be a partial lunar eclipse where the earth's shadow will be cast over 97 percent of the moon.
The Adler Planetarium says weather permitting, the eclipse will be visible between 1:18 a.m. and 4:47 a.m.
Some protest Pritzker event
A group of protestors, some holding signs supporting state Sen. Darren Bailey, disrupted a news conference held by Gov. J.B. Pritzker Monday morning.
The event was a ribbon-cutting ceremony for a facility in Burbank.
State Rep. Mike Zalewski noted on social media the group "loudly heckled, chanted and jeered during the entire program."
Media reports show people holding signs that say "Fire Pritzker" and others were protesting mask mandates.
Secretary of State website gets .gov URL
CyberDriveIllinois.com is now ILSOS.gov.
The Illinois Secretary of State's office announced they've changed the URL for accessing their services like getting a new driver's license or registering a business.
The agency said moving from a .com to a .gov helps enhance online security and combat fraud.