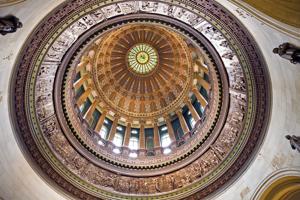 Illinois Supreme Court to decide venue for court challenges
The Illinois Supreme Court will have to decide where challenges to the governor's COVID-19 mandates for schools should be heard.
Attorney Thomas DeVore wants his clients' challenges to quarantine and mask mandates combined in Macoupin County.
Attorney General Kwame Raoul's office wants the cases combined in either Sangamon or Cook County.
Sports betting handle could grow in Illinois
A measure poised for the governor's desk would expand sports betting in Illinois to allow betting on college teams from the state.
The pilot addition to the state's sports betting law would sunset in July 2023.
Other changes spelled out in the proposal impacts the state's video gambling law and horse racing industry.
Veterans head to Washington D.C.
Veterans of foreign wars from the Quad Cities area are getting ready to fly to Washington D.C. later this week to visit memorials dedicated in their honor.
Honor Flights of the Quad Cities says they're set to resume with a chartered flight on Nov. 4.
The Bob Morrison Memorial Flight is named in honor of the late founder of Honor Flight of the Quad Cities and will carry nearly 100 veterans free of charge.
Lawmakers off until January
Illinois state lawmakers aren't back in Springfield until next year.
After wrapping up the fall veto session last week, the legislative calendar for the spring was updated.
They'll return Jan. 4 with 54 session days scheduled through April 8, the earliest adjournment date since 2000 when lawmakers adjourned April 15.
Per the state constitution, the Legislature has until May 31 every year to pass bills with simple majorities.
All schools in Illinois now recognized
All schools that were listed as either not recognized or on probation by the Illinois State Board of Education for not following mask mandates are now listed as recognized.
A spreadsheet posted to ISBE's website shows the 64 districts that had been cited, but they're all now listed as fully recognized.
A spokesperson for the agency didn't return messages seeking an explanation.
COVID-19 cases decline in Illinois
The number of COVID-19 positive cases continues to drop week to week.
Last week's total reported by the Illinois Department of Public Health was 14,616, down nearly 500 from the week before and more than 1,000 from two weeks ago.
The positivity rate is now at 1.8%.