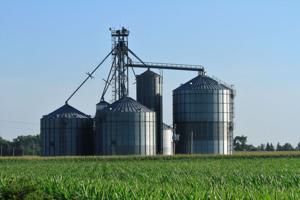 (The Center Square) – Not enough farm managers take advantage of free on-site safety consultations for grain handlers and storage operators, said Hap Hileman, marketing and outreach coordinator for Illinois Department of Labor, the Illinois division of the Occupational Safety and Health Administration.
Every year hundreds of farm workers are injured or killed while working in grain handling and storage facilities, Hileman said. Last year Illinois led the nation in the number of reported grain handling and storage accidents – most of them preventable.
Hileman said scientists at the National Institute for Occupational Safety and Health study best practices and develop policies and procedures that farmer managers can take advantage of.
"We have a lot of good ideas and proven techniques that can prevent accidents," Hileman said.
Small changes in how tasks are performed and how the workplace is managed can make a big impact on safety, he said.
"OSHA's safety training is free and confidential," Hileman said. "There is no connection to OSHA enforcement. We can come out and help employers recognize hazards and figure out what policies and procedures can benefit their operations."
Grain handling equipment and storage containers can quickly become deadly, Hileman warned. The average grain bin is 30 to 50 feet high.
Grain acts like quicksand. It only takes 5 seconds for a worker to be sucked under.
"The more you struggle to fight to get out, the deeper you are going to go," Hileman said.
In addition to grain bins, flat storage areas, like giant, long warehouses, store mounds of grain two to three stories tall. Sweep augers with teeth pick grain up from the bottom of the storage area and move it through the huge space.
"Workers walk in there. They drive equipment through there. A two-story wall of heavy grain can collapse on them," Hileman said.
In addition to engulfment and entrapment, grain handling workers can encounter a poisonous atmosphere in the buildings, Hileman said.
"As the grain breaks down or as microbes eat the grain, they put off a toxin. Or they consume the oxygen and now it's an oxygen deficient environment. Somebody goes in there and, boom, they drop," he said. "If the oxygen level gets below 17, you pass out."
Dust buildup is one of the most dangerous hazards of grain storage because it can cause deadly explosions.
"Grain is dry. It is airborne. The particles are so small that one spark or even a bearing in a blower motor that is overheated can ignite the whole building," Hileman said.
For information on free grain storage and handling consultations, contact Harry "Hap" Hileman at the Illinois Department of Labor in Springfield at 217-782-9397 or email him at harry.hileman@illinois.gov.