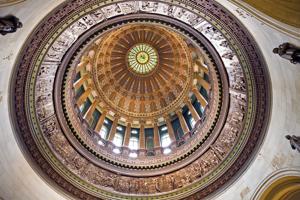 Democrats release third Congressional boundary map
The third version of Illinois' Congressional maps for the next decade has been released.
Democrats at the statehouse say the latest version takes into account input from the public and works to include stronger minority representation.
It's possible both chambers could approve the maps before the end of the session tonight.
Lawmakers repeal parental notification law
It's onto the governor with a measure to repeal the state's law requiring parents of minor children seeking an abortion to be notified.
The measure passed mostly along party lines with some Democrats opposing the move. Supporters say repeal is necessary for young girls in abusive families.
Opponents say the measure means parents won't be told when their minor daughter undergoes what could be a dangerous medical procedure.
Changes to Health Care Right of Conscience Act advance
With the passage of the amendment to the Health Care Right of Conscience Act in the House, it's now up to the Senate.
The measure was amended further in the House to drop the immediate effective day, making it go into effect July 1, 2022. That means only a simple majority is needed.
Critics say the historic citizen opposition is because lawmakers have failed to do their job in holding robust hearings about nuanced issues surrounding COVID-19 mitigation.
Pritzker set to travel to London, Glasgow
Gov. J.B. Pritzker will be heading overseas next week for an economic development trip. The weeklong trip beginning Nov. 2 will take the governor and his team to London.
His office says they'll be touting the state's green energy economy, workforce, transportation hub and the state's attractiveness to international companies.
They'll then head to the United Nations Climate Change Conference in Glasgow.
Illinois could soon have a Veterans' Accountability Unit
It's on to the governor with a bill to create a Veterans' Accountability Unit within the Illinois Department of Veterans' Affairs.
Both the House and Senate were unanimous to the Senate Amendment to House Bill 359.
The unit would be independent of the department and would provide an opportunity for people to file complaints about services veterans receive.
Illinois has highest combined wireless taxes in nation
A new report shows Illinoisans are dealing with the highest wireless taxes in the nation.
The report from the Tax Foundation shows Illinois charges combined federal, state and local tax rates of 34.56%.
Idaho, which has the lowest taxes in the nation, charges 14.63%.
The average across the nation is 23.94%, according to the report.