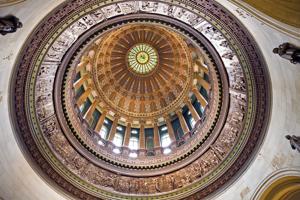 Senate passes measure to repeal Parental Notification Act
The Illinois Senate passed a measure to repeal the state's law requiring parents to be notified if their minor daughter is to have an abortion.
Supporters say repealing notification is important for young girls in abusive families.
Opponents of the repeal point to a court process pregnant girls can utilize to bypass notification.
The measure is now up to the Illinois House.
Group calls for incentives for electric vehicle industry
The Illinois Manufacturers' Association is urging state lawmakers to approve incentives for the electric vehicle industry in Illinois before the end of the week.
IMA's Mark Denzler said the incentives could be hiring and training tax credits or credits to offset the cost of energy.
Details of such a package, and how much it will cost taxpayers, have yet to be finalized.
Attorney General warns about candy containing cannabis
Be on the lookout for possible cannabis look-alike handouts during Halloween.
That's the warning from the Illinois attorney general's office.
Some of the possible illicit cannabis edibles the Chicago Tribune reports are things that mimic Flamin' Hot Cheetos or even Skittles, but contain high concentrations of THC, the psychoactive compound in marijuana.
Police officer dies after shooting Tuesday morning
Illinois State Police have confirmed that a Pontoon Beach police officer has died after a shooting at a gas station.
According to police, Officer Tyler Timmons was approaching a suspected stolen vehicle before 8 a.m. Tuesday when a male suspect began firing at the officer.
Timmons was transported to a St. Louis hospital where he later died of his injuries. A suspect is in custody and the investigation is ongoing.
Lawmakers return to Springfiled
The Illinois legislature is back today for the final two days of the fall veto session and there's a lot that could transpire.
Among the issues is new congressional maps. Nearly all who testified about proposed maps Tuesday opposed the latest version of the map.
The Democrats' first version was given an "F" grade by the Princeton Gerrymandering Project. It's expected a final version will be released before the end of the week.
Lawmakers laud Chicago Sky
The WNBA's Chicago Sky was recognized with a resolution in the Illinois House Tuesday.
The team took home their first championship title this month. Lawmakers heralded the achievement for lifting Chicago and the state, and for elevating women's professional sports.