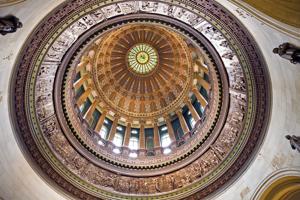 Lawmakers could move to change Health Care Right of Conscience Act
In less than 24 hours, the number of people filing witness slips in opposition to proposed changes to the state's Health Care Right of Conscience Act is approaching 40,000.
That dwarfs the nearly 400 that filed in support of changes. Anyone can file witness slips on issues up for consideration during legislative hearings.
The House Executive Committee hearing on an amendment to Senate Bill 1169 is this afternoon at the statehouse.
Group says court ruling against Cook County taxes on guns, ammo is a victory for Illinois
Cook County says officials "are not collecting and have noticed the tax collectors" to not collect taxes on guns and ammo the Illinois Supreme Court ruled against last week.
The $25 tax per firearm sold and one to five cent tax per round of ammunition had been imposed since 2012.
Guns Save Life secured the high court's ruling after years of court proceedings.
Police identify victim of serial killer John Wayne Gacy
Authorities have identified one of 6 unidentified victims of serial killer John Wayne Gacy.
Franics Alexander, a North Carolina native who moved to Chicago, would have been around 22 years old when Gacy killed him in 1976.
Alexander's remains were among 26 sets that police found in a crawl space under Gacy's home. He was executed in 1994 at the age of 52.
Changes proposed for Health Care Right of Conscience Act
Lawmakers are poised to take up the first changes to state law concerning COVID-19 and vaccine mandates.
A House amendment to Senate Bill 1169 says it's not a violation of The Health Care Right of Conscience Act to require measures to prevent COVID-19 and allows someone to be terminated for such a reason. A hearing is expected Thursday morning at the statehouse.
Groups like the Illinois Fraternal Order of Police say they oppose any move and warn lawmakers of political blowback.
Pritzker reaches deal on vaccine agreement
Reaching an impasse with one group of state employees, the Pritzker administration says it now has agreements with nearly 10,000 state employees to get vaccinated against COVID-19.
The governor's office announced agreements with staff at the Illinois Department of Veterans' Affairs and the Department of Human Services.
But, there's an impasse with more than 10,000 other employees at the Department of Corrections.
House could consider bill to allow prison inmates to vote
The Illinois House could consider a measure to allow convicted felons to cast absentee ballots from inside Illinois prisons.
The House Rules Committee Monday pushed Senate Bill 828 to the full House for consideration.
Lawmakers return today for the final three days of the veto session.