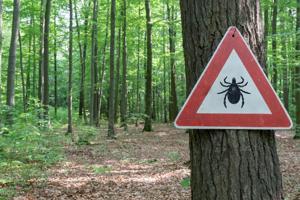 (The Center Square) – In October and November, hunters and hikers don't think much about ticks, but the Illinois Department of Public Health says fall is no time to get complacent.
"People think of ticks in hot weather, but ticks can be looking for people to bite anytime when the temperature is above 40 degrees," said Dr. Connie Austin, veterinarian with the Illinois Department of Public Health's Division of Infectious Diseases.
Ticks can carry Lyme Disease and Rocky Mountain Spotted Fever, Austin said.
"These diseases can be quite serious," she said.
Tick-borne illnesses can result in severe joint pain. Symptoms can also resemble neurologic conditions, such as Guillain-Barré syndrome or botulism.
It is easier to prevent getting a tick bite in the first place than it can be to find and remove a tick after one gets on your skin, Austin said. Ticks that spread Lyme Disease are as small as the tip of a pencil.
"It is relatively easy to prevent tick bites if you take precautions," she said.
Ticks hide in high grass and in the woods, Austin said.
Before hunting or hiking, the Department of Public Health recommends using products containing 0.5% permethrin to treat clothing, boots and camping gear. Visit the EPA website for guidance on EPA-Registered Insect Repellents containing DEET, picaridin, IR3535, oil of lemon eucalyptus (OLE), para-menthane-diol (PMD), or 2-undecanone.
Don't forget to treat your pets with repellent, Austin said. A person can get infected on their living room couch if a dog brings a tick inside.
Wear long sleeves and tuck your shirt into your pants to protect your skin, Austin said. Tuck your pants into your boots or your socks, or wear gaiters. Wear gloves when dressing or butchering game. Wash your hands thoroughly whenever you handle animal tissue, she said.
After a hike or a hunting trip, shower right away to remove unattached ticks. Then check your body all over for ticks. If you find an attached tick, don't use matches or alcohol to remove it. Use fine tipped tweezers to gently pull the tick upward, being careful not to squeeze it. Don't twist or jerk the tick. The mouth-parts can break off and remain in the skin.
Symptoms of tick-borne illness may not appear for days or even weeks after a tick bite. One telltale sign of Lyme Disease is a rash that has a clear center, like a bullseye. However, some infected people never develop a rash. Symptoms to look for after a tick bite include fever, chills, fatigue, body aches, headache, neck stiffness and swollen lymph nodes.
If you suspect a tick bite, see a doctor right away so you can be tested and treated with antibiotics. Left untreated, tick-borne infections can be painful and chronic.