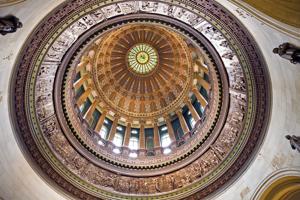 Illinois gets four days in jail for approaching grizzly bear, cubs
A judge has sentenced an Illinois woman to four days in jail for not moving away while a grizzly bear with two cubs came close and charged her in Yellowstone National Park.
25-year-old Samantha Dehring of Carol Stream pleaded guilty this week to willfully remaining and approaching and photographing wildlife within 100 yards.
Dehring must also stay out of Yellowstone for a year and pay a $1,000 fine and $1,000 to a wildlife protection fund.
Items belonging to Al Capone up for auction
Nearly 1,000 people from around the world have signed up for tonight's auction of items belonging to the notorious Chicago mobster Al Capone.
More than a century after Capone moved to Illinois from New York and 90 years after the IRS caught up with him, people can bid on items belonging to the organized crime gangster and his family.
About 150 people will witness the auction in person, including Capone's three surviving granddaughters.
Du Quoin State Fair attendance up
The Du Quoin State Fair hosted over 150,000 people this year, a 22% increase from the 2019 fair.
Along with overall attendance being up, grandstand shows saw their highest attendance numbers since 2012. Over 20,000 took in the eight performances, with the classic rock band and Illinois-native REO Speedwagon leading the way with over 4,000 tickets sold.
Pritzker touts vaccine agreements
Gov. J.B. Pritzker is heralding COVID-19 vaccine agreements with the Illinois Nurses Association and the Illinois Federation of Public Employees.
The 1,300 employees impacted by the agreement work at congregate settings like veterans' homes and correctional centers.
There are medical and religious exemptions.
New broadband tool could help communities
Illinois communities can access new data provided by the state to research broadband connectivity in their area, as well as test online speeds and find gaps.
The Illinois Broadband Lab website developed by the University of Illinois is part of the $420 million Connect Illinois broadband plan lawmakers approved in 2019.
Illinois likes Sour Patch Kids
With Halloween just around the corner, a new report reveals Illinois' favorite candy.
According to CandyStore.com, Illinois' favorite Halloween candy is Sour Patch Kids, followed by Kit Kat bars, then Starbursts.
Data showed that Illinoisans bought over 162,000 pounds of Sour Patch Kids over the last 14 years. The nationwide favorite candy is Reese Cups, followed by Skittles and M & M's.