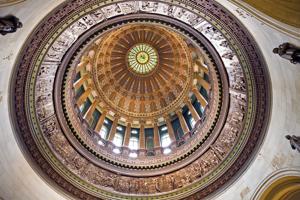 Billionaires trade barbs over crime in Illinois
Illinois crime is nearly at a state of emergency.
That's according to Gov. J.B. Pritzker who was responding to critics of his handling of increased crime in Chicago and elsewhere.
Citadel CEO Ken Griffin said the governor cares more about politics than people.
Pritzker said Griffin is misrepresenting the governor's position.
ISBE changes policy for private schools
The Illinois State Board of Education is reaching out to private schools not complying with the governor's mask mandates to discuss compliance, and they're putting them on probation, rather than immediately revoking recognition.
The Chicago Tribune reported ISBE's new policy follows last week's Kendall County court ruling that Parkview Christian Academy's recognition status be reinstated pending the outcome of the case.
Illinois' eviction moratorium is over. What's next?
Now that the eviction moratorium has ended in Illinois, some are wondering if there will be a wave of eviction filings that could threaten to overload the system.
Landlord eviction filings were allowed to resume in August, but they weren't enforceable until now.
According to a U.S. Census Bureau survey, more than 60,000 Illinoisans said they are likely to face eviction in the next two months.
Customs seizes fake COVID-19 vaccines cards, Ivermectin, Hydroxychloroquine
The U.S. Customs and Border Protection says for the third time in a matter of weeks, officers at O'Hare International Airport confiscated another round of bogus COVID-19 vaccine cards coming from China.
A separate package from China had 100 mislabeled pills with yet another package from Mexico containing Ivermectin and Hydroxychloroquine.
While some say the medication combats COVID-19, neither has been approved by federal regulators for such use.
Illinois holds top spot so far this year in gun checks
For the first time in a while, Illinois takes second place in monthly firearm background checks reported through the FBI's National Instant Criminal Background Check System.
For September, Illinois' 347,400 checks would be the top spot of all states if it weren't for Kentucky's 370,700 checks.
But, Illinois still holds the top spot so far this year with nearly 7.5 million checks compared to Kentucky in second place with 2.7 million checks.