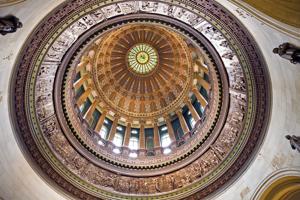 School sees COVID cases decline after court said it can't require masks
A downstate Illinois public school, which was told by a judge it can't force masks on children without a quarantine order, has seen the number of positive COVID-19 cases decrease. Hillsboro schools were enjoined from requiring masks on Sept. 17.
Since then, the number of positive cases has decreased. Attorney Thomas DeVore says it's not conclusive, but does suggest masks may not be necessary to prevent the spread.
The school's superintendent says while cases are going down, those considered close contacts go up without masks in place.
State's eviction moratorium ends
There could be a flood of eviction cases across the state with the end of Gov. J.B. Pritzker's nearly 20-month moratorium.
Pritzker says there are millions of federal tax dollars available for landlords through the state and courts will also be facilitating such grants.
New FEMA rules hike flood insurance prices for some in Illinois
Homeowners in flood-prone areas of Illinois are bracing for higher insurance rates after the Federal Emergency Management Agency launched a revamp of its flood insurance program.
Beginning this month, FEMA is transforming the program by bringing more equitable pricing to flood insurance.
More schools sue over mask mandates
More lawsuits have been filed by schools against the Illinois State Board of Education over mask mandates.
Attorney Thomas DeVore Friday filed lawsuits for emergency relief against ISBE on behalf of Red Hill, Cowden-Herrick and Beecher City schools.
Two of the districts are on probation status for not following mandates.
After having been on probation, ISBE lists Red Hill as fully recognized for complying with mask mandates.
COVID-19 cases fall in Illinois
The number of positive COVID-19 cases statewide continues to drop.
On Friday, the Illinois Department of Public Health reported 18,700 positives for the week. That's down from 21,800 from the week before.
The positivity rate has dropped half a percentage point to 2.2 percent.
School district warns about TikTok challenge
One of Illinois' largest school districts is warning students that taking part in the latest TikTok challenge could land them in hot water.
The challenge involves students "smacking a staff member on the backside."
The Indian Prairie School District 204 reminded its more than 27,000 students that the action could border on assault.