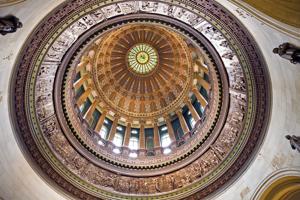 State's eviction moratorium to end Monday
The state's eviction moratorium ends Monday and Gov. J.B. Pritzker hopes landlords with as few as one property take advantage of available funds.
The governor said hundreds of millions of dollars in taxpayer grants to landlords are going out and encouraged the courts to continue to provide leeway with referrals to additional rental assistance.
Vaccine lawsuit continues in Adams County
An attorney securing temporary restraining orders blocking COVID-19 mandates from being implemented in some schools says an Adams County judge has blocked the termination of several health care workers.
Attorney Thomas DeVore says state law allows for the influenza vaccine to be required in some settings, but COVID-19 isn't the flu.
He said unless lawmakers change that, the Health Care Right of Conscience Act gives people the right to deny a medical procedure they don't agree with.
The next hearing in the Adams County case is Oct. 6.
FBI crime report shows homicides, violent crime up in Illinois
Illinois continues to outpace the rest of the country for murders and violent crime.
According to the FBI's 2020 Uniform Crime Report, there were 9 homicides per 100,000 people, the highest total in a decade. That is compared to 6.5 per 100,000 nationally.
Violent crimes increased as well, in Illinois rising to 425 crimes per 100,000 people, an increase of 2.6%. That was about 7% higher than the national average, while its property crime rate was about 25% higher.
Back to business grants total $24 million
Around $24 million from 521 grants to businesses have been awarded by the state from federal COVID-19 relief funds.
The taxpayer funds were approved by Congress earlier this year.
The Pritzker administration says there's $226 million remaining for small businesses to apply for with a deadline of Oct. 13.
Midwest states announce partnership
Governors from Illinois, Indiana, Michigan, Minnesota and Wisconsin have announced the establishment of a partnership to collaborate on electric vehicle charging infrastructure across the Midwest.
The goal of the agreement is to collectively accelerate vehicle electrification in the region.
An estimated 105,000 new jobs in the utility sector are anticipated to be needed to deploy vehicle charging infrastructure by 2030.
Manufacturing month underway
The Illinois Manufacturers' Association is celebrating today as Manufacturing Day and the month of October as Manufacturing Month.
The trade group says the designation allows the state to reflect and celebrate the industry's contributions to the state and nation.
With $300 billion of economic impact, Illinois manufacturers employ more than half a million workers with an average salary of $88,000.