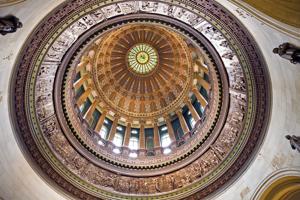 Chicago Bears sign purchase agreement for Arlington International Racecourse
The Chicago Bears have signed a purchase agreement for the Arlington International Racecourse property, the Chicago Sun-Times reported
It's not a final step, but the latest for possibly moving the team from Soldier Field in Chicago to the 326-acre racecourse in Arlington Heights.
Nearly 20 years ago, Soldier Field, which is owned by the Chicago Park District, was remodeled for $587 million.
Biden cancels trip to Illinois
President Joe Biden won't be in Illinois today after all.
The Chicago Tribune reported Biden canceled the planned trip to deal with negotiations over a $3.5 trillion spending plan.
Biden was to visit Chicago with Gov. J.B. Pritzker and others to promote his vaccine mandate for private sector employers with more than 100 employees.
Man with colony of bats in home dies in first human case of rabies in state since 1954
An Illinois man has died from the first human case of rabies in the state since 1954.
The Illinois Department of Public Health reports the Lake County resident was bit by a bat that tested positive for rabies.
The unnamed man refused treatment and later died.
Public health officials say they found a bat colony in the man's home.
Legislative hearings set for congressional maps
Legislative hearings on new boundaries for Illinois' congressional seats will soon be announced.
The state is losing a seat in congress for the next ten years because of population decline.
Supermajority Democrats at the statehouse relaunched their online platforms for the public to submit their suggestions and said a series of public hearings will be announced soon.
Republicans have been critical of Democrats' handling of the mapmaking process.
FOID audit set for release
The Illinois Auditor General plans to release a review of the Illinois State Police's handling of the state's gun licensing operations that's been plagued with persistent backlogs.
The office announced its Management Audit of the Firearm Owner's Identification Card and Concealed Carry License Programs will be published today on the agency's website.
People have been waiting months beyond the legal time allowed by law for their FOID card applications to be processed.
State fair attendance dips
There were around 36,500 fewer attendees to the Illinois State Fair this year than compared to 2019.
Fair officials said that's the second-highest since 2014, when they started tracking formal attendance numbers.
Gov. J.B. Pritzker canceled the 2020 expo, saying it was too dangerous during the COVID-19 pandemic.