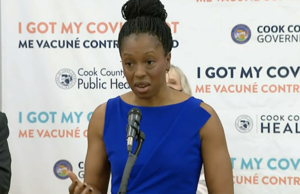 (The Center Square) – A rideshare driver in Chicago who has a complaint against the Illinois Department of Public Health over mask mandates is giving state officials notice of depositions as the case continues.
Representing himself, Justin Mahwikizi sued the IDPH earlier this year in Cook County Circuit Court saying the mask mandate violates his rights.
A court docket for the case from the Cook County circuit clerk's office shows the judge denied Mahwikizi's temporary restraining order in May.
Attorney General Kwame Raoul's office is defending IDPH. They motioned to stay discover in August.
"Defendants' Motion to Stay Discovery is denied," Cook County Circuit Court Judge Eve Reilly's order from Aug. 17 reads. "Defendants have until Sept. 1, 2021, to respond to Plaintiff's Second Request for Documents."
Now past that deadline, Mahwikizi said the department has refused to comply with that request.
"If they won't provide the documents, then they will have to go on the record with a sworn deposition," Mahwikizi said in an interview.
Mahwikizi sent a notice for discovery. He also requested depositions be held with IDPH Director Dr. Ngozi Ezike and other IDPH officials via Zoom.
Among the issues Mahwikizi hopes to address in a recorded deposition are the "nature and characteristics" of the department's COVID-19 data collection and how such information was used to make decisions regarding the "lockdown of Illinois, and quarantining 12 million people."
The Attorney General's office declined to comment.
"We cannot comment on pending litigation," said Raoul Press Secretary Annie Thompson.