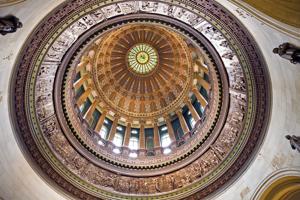 Pritzker signs energy bill
Gov. J.B. Pritzker signed sweeping changes to the state's energy policies into law at an event in Chicago.
Since coming into office, the governor has pushed for legislation to bring about more reliance on renewable energy.
The measure subsidizes nuclear power and renewable energy programs while aiming to close coal-fired plants by 2045.
Utility ratepayers will see higher bills.
JCAR unanimously demands rule from ISBE over Pritzker's mask mandate
The bipartisan Joint Committee on Administrative Rules was unanimous in requesting the Illinois State Board of Education to produce rules for enforcing the governor's mask mandate in schools.
JCAR members said they believe policy exists outside of rule as private schools not following mask mandates have their recognition revoked while public schools are on probation.
An ISBE attorney refrained from answering some questions because of pending litigation.
Two Illinois college make top 10
Two Illinois universities have been named among the top 10 in the country for 2022, according to the latest rankings from U.S. News & World Report.
The annual Best Colleges ranking listed the University of Chicago at No. 6 in the nation.
Northwestern University came in at No. 9. Also named on the list was the University of Illinois at Champaign-Urbana, which ranked 47th.
More mask lawsuits pop up
The parents of children at Teutopolis schools are in court today seeking a temporary restraining order over mask mandates.
Attorney Thomas DeVore filed the suit saying children can't be forced to use masks as medical devices without individual quarantine orders from the county health department.
The case will be heard today in Effingham County.
IHSA suspends six student-athletes 
Six student-athletes were suspended by the Illinois High School Association for not complying with various bylaws.
IHSA said the board also suspended three sets of teams Monday until they're in good standing with the Illinois State Board of Education.
There was also discussion about the growing number of forfeits during the pandemic is having on rescheduling.
Interest starts on state's unemployment debt Monday
Illinois is one of ten states that hasn't paid off its unemployment debt and the interest is starting Monday.
Illinois' debt is at $4.2 billion as of earlier this month. If the debt isn't addressed, there'll be a 2.3 percent interest rate, costing taxpayers tens of millions.
The state still has billions in federal tax dollars sent earlier this year for COVID-19 relief that legislative leaders said they'll consider using to pay down such debt.