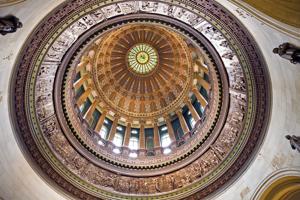 Pritzker plans to sign energy bill
Gov. J.B. Pritzker is expected to sign sweeping energy legislation both chambers passed this month.
The measure would give nearly $700 million in ratepayer subsidies to nuclear generation facilities.
Exelon said passage of the bill allows them to refuel two of their nuclear plants.
The measure also subsidizes renewable energy programs and would require closure of all coal-fired power plants by 2045.
Illinois Supreme Court to make $60 million available for rental assistance
Around $60 million for rental assistance is being made available through the Illinois Supreme Court.
The Court-Based Rental Assistance Program or CBRAP is available to tenants and landlords across the state starting Wednesday.
The court said the expedited payments are intended as a safety net for litigants on the brink of an eviction order.
Subway employee gets suspended after robbery
A Subway employee who defended herself against a robber has been suspended by the company after surveillance video of the encounter leaked online.
Araceli Sotelo was working alone Sunday when a man demanded money. Sotelo struggled with the man, who eventually ran off with her purse.
Sotelo said her company told her if the videos were not taken down, she would be suspended.
She says she didn't post the videos and can't get a hold of the owner of the store.
General Assembly back next month
After passing a sweeping energy bill over the span of two special sessions, the Illinois Legislature is off until next month.
Lawmakers are set to return for two weeks in October for fall veto session, but there are no pending bills for them to take up.
They could bring about entirely new legislation at that time.
Report finds revenue could fall for circuit courts with elimination of cash bail
County circuit court clerks from around the state may see a significant drop in funding from bail bond payments with the end of cash bail Jan. 1, 2023.
That's according to the Illinois Supreme Court. A report on the financial impact of elimination of cash bail in Illinois released Monday shows bond payments statewide in 2016 totaled $153.2 million.
That dropped to $121.9 million in 2020, the year court proceedings were delayed because of the pandemic.
White reminds motorists to fix license plates
Illinois Secretary of State Jesse White's office is reminding Illinois drivers not having a readable plate can result in a $164 fine.
Damaged or degraded plate owners can call White's office for a replacement at no cost, the office said.
Drivers can recycle old plates by disposing them in a tamper-proof bin at a Secretary of State facility.
There are nearly 9 million passenger vehicles registered in Illinois.