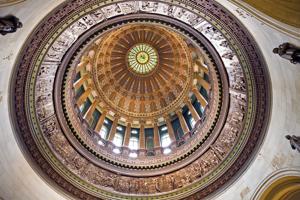 Illinois Senate returns to Springfield for energy legislation
The Illinois Senate returns to the state capitol today to take up a sweeping energy bill the House passed last week.
The measure would give around $700 million in ratepayer subsidies to Exelon to keep nuclear power plants open, bring about renewable energy programs and require the closure of coal fired power plants by 2045.
Gov. J.B. Pritzker is expected to sign the measure.
Judge nixes RICO suit over ComEd scheme
A class action federal racketeering lawsuit against ComEd over the bribery scandal implicating House Speaker Michael Madigan won't proceed.
The case that even the Illinois Citizens' Utility Board signed onto was dismissed by a federal judge.
The Chicago Tribune reported the judge said plaintiffs failed to allege what specific pressure was put on legislators.
New capital program aimed at revitalizing main streets in Illinois
Illinois has a new $50 million capitol program aimed at revitalizing commercial corridors that were hit hard by the COVID-19 pandemic.
The Illinois Department of Commerce and Economic Opportunity said the fund is the latest installment of the state's Rebuild Illinois capitol program using federal tax dollars for construction grants.
COVID-19 cases fall, hospitalizations level off
Illinois' COVID-19 positives from last week dropped by more than 4,000 from the week before.
The weekly reporting from the Illinois Department of Public Health Friday showed around 26,000 cases last week.
The week before, IDPH reported 30,300. The state's seven-day positive rate is down to 4.5 percent, half a percentage point from the week before.
Hospitalizations for COVID-19 appear to be leveling from the weeks before.
COVID-19 vaccines could be available for kids in November
Vaccines could be made available for young children as soon as November, according to Chicago's top doctor.
Chicago Department of Public Health Commissioner Dr. Allison Arwady said if the vaccines are approved, they will be broken down in different age groups, with children 6 to 11 years old likely to get approval first.
New law aims to help children with cancer
A new law in Illinois aims to help kids with cancer find the right treatment.
Cal's Law provides children diagnosed with cancer greater access to DNA sequencing testing, which is offered less frequently to children than adults.
It is named after Cal Sutter, a South Elgin Little League All-Star diagnosed with Acute Myelogenous Leukemia in 2005. Sutter died a year later.