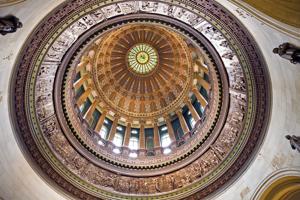 Comirnaty vaccine not yet available in Illinois
Illinois doesn't have any doses of the FDA-approved Comirnaty COVID-19 vaccine available.
Last month, the FDA approved the new label Comirnaty for the COVID-19 vaccine from BioNTech. It also reissued an Emergency Use Authorization for the Pfizer vaccine.
The Illinois Department of Public Health said Comirnaty "is the same formulation as the vaccine used" with emergency authorization. But the Comirnaty label vaccine is not yet available.
IDPH said: "Illinois has not received any of the vaccine with the Comirnaty labeling at this time."
Illinois House to return to Springfield on Thursday
The Illinois House will be back in Springfield on Thursday to take up energy legislation.
The measure could subsidize nuclear energy and renewable energy programs with a goal of shutting down coal-fired power plants by 2045.
There could also be another vote in the House to agree with the governor's changes to an ethics bill after it failed to get enough votes last week.
Some seek standards for sustainable investing
With a rise in environmentally and socially responsible investing, some are calling for disclosure rules to back up those claims.
A law enacted in 2019 encourages public agencies and governmental units to develop a sustainable investment policy.
Industry insiders have criticized the absence of clear standards for environmental, social and governance investing, with some saying fund managers sometimes mislead the public through their marketing messages.
Republicans oppose ethics bill changes
Statehouse Republicans are already putting out messaging they'll be against agreeing to the changes Gov. J.B. Pritzker made to an ethics bill.
The measure passed overwhelming this spring, but Pritzker sent the bill back with what he said was a technical change. The Senate agreed.
Republicans in the House voted against agreeing to the measure, saying he should have changed it to give more independence to the legislative watchdog. They return Thursday.
99,000 seek rental assistance
Nearly 99,000 applications for rental assistance have been completed.
The Chicago Tribune reports the Illinois Housing Development Authority has paid out more than $252 million of the $500 million in federal funds made available.
Those eligible for funds will have up to $25,000 grants issued to landlords. While the national eviction moratorium has ended, Illinois' is still in place until Oct. 3.
Another candidate could seek GOP nomination to challenge Pritzker
There could be a fourth Illinois Republican vying for the GOP gubernatorial nomination.
Politico reports Petersburg resident Jesse Sullivan, who founded venture capital firm Alter Global, has pulled together a campaign team and is reaching out to potential donors.
His name would be in addition to businessman Gary Rabine, former state Sen. Paul Schimpf and state Sen. Darren Bailey.