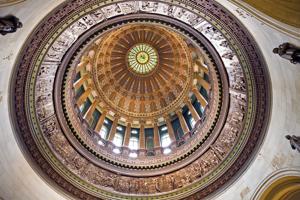 Illinois House to return to Springfield for energy legislation
The Illinois House will return to Springfield Thursday.
In a statement, House Speaker Emanuel "Chris" Welch said the purpose will be to consider a sweeping energy bill the Senate passed earlier this month.
Welch said he's pleased with the negotiations. The measure could include subsidies for nuclear energy and money for clean energy programs.
Opponents say the measure will increase the cost of electricity for consumers.
Judge says school district must return to in-person classes
A public school south of Springfield must return to full in-person education.
A Macoupin County Judge Monday issued a partial temporary restraining order against North Mac school.
The district went into remote learning following concerns of COVID-19 cases. It also followed a student walkout protesting quarantine rules.
The court's order requires the district to implement a safe return to in-person learning.
Analysis ranks Illinois near the bottom of nation's hardest-working states
A new analysis puts Illinois near the bottom of the hardest working states in the country.
The personal finance website WalletHub looked at more than 10 indicators from average work week hours to the share of workers with multiple jobs to determine the rankings.
Illinois was ranked as the 43rd hardest-working state in the nation.
Alaska and North Dakota took the top two spots as the hardest working states.
Energy bill assigned to House committee
The energy bill the Illinois Senate passed earlier this month has now been assigned to a House committee.
Senate Bill 18 is now in the House Executive Committee. A hearing has been scheduled for Thursday.
The measure, as passed by the Senate, would subsidize nuclear energy and renewable energy programs.
It would also require coal fired power plants to close by 2045.
Courts side with parents over quarantine rules
Across the state, circuit courts are siding with parents over quarantine policies being implemented at local school districts.
In the past week, temporary restraining orders have been issued against schools in Clinton, Macoupin, Montgomery and Adams counties.
The courts say students can't be kept from school without an official quarantine order from the county health department.
Such orders can be challenged in the courts.
Illinois National Guard heads to help Hurricane Ida
Around 160 members of the Illinois National Guard have been called to help relief efforts in the aftermath of Hurricane Ida.
The soldiers from Urbana and Mattoon, Normal and Macomb will provide transportation support, debris removal and route clearance missions.
The Illinois National Guard has assisted in major hurricane events for years.
More than 1,100 were sent to Louisiana following Hurricane Katrina in 2005.
Vaccine mandate deadline pushed back
Sunday's deadline for health care workers, educators and college students to get vaccinated against COVID-19 by order of Gov. J.B. Pritzker has been extended to Sept. 19.
Those who don't get the vaccine by then will be subject to at least weekly testing.
Opponents of the move say in some cases people can't be discriminated against for denying acceptance of the vaccine.
New rules for Chicago Bulls, Blackhawks games
Get ready to show your vaccination status if you want to take in a Chicago Bulls or Blackhawks game.
The United Center has announced it will require proof of full COVID-19 vaccination or a negative COVID-19 test for anyone attending events.
A statement also said additional investments have been made to the arena to increase air flow inside.
Pritzker signs mental health bill
A new bill signed by Gov. J.B. Pritzker will allow students to take up to 5 mental health days for the school year.
A report from the CDC shows that mental health emergencies increased 24% for kids aged 5 to 11, and 31% for kids 12 to 17 at the beginning of the pandemic.
The legislation goes into effect January 2022.