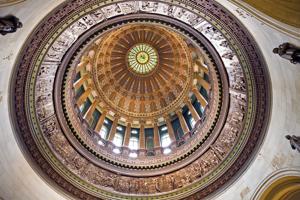 Enhanced unemployments set to expire
Enhanced unemployment benefits expire Saturday.
The federal programs include the $300 additional weekly payments to claimants and the Pandemic Unemployment Assistance program that was for self-employed workers and independent contractors.
The Illinois Department of Employment Security said regular state unemployment benefits for 26 weeks continue with certification.
Madigan challenger wants to take lawsuit to U.S. Supreme Court
He challenged former Illinois House Speaker Michael Madigan in a 2016 Democratic primary and now Jason Gonzales is asking the U.S. Supreme Court to take up the case.
Gonzales claims Madigan set up sham candidates to dilute the Latino vote in his district, securing the nomination for the longtime politician.
The Chicago Tribune reported an appeal filed Thursday says lower federal courts incorrectly tossed the matter. It's unclear if the high court will take up the case.
Government offices, schools to close for Labor Day
Government offices and schools around the state will be closed Monday for Labor Day.
The day is meant to honor the work labor movements have done throughout generations.
Cannabis sales slump in August
Illinois' adult-use cannabis dispensaries sold $5.8 million less in legal cannabis products last month compared to the month before, bucking a consistent trend of increased monthly sales.
The Illinois Department of Financial and Professional Regulation posted August sales totaled $122 million.
In July, nearly $128 million was sold. The only other times sales dipped from month to month was February of this year and last, and a slight dip from October to November 2020.
Taxes on cannabis sales can be more than 40%, depending on the potency of the product.
How many cases in an outbreak?
Gov. J.B. Pritzker isn't following the COVID-19 outbreak definition recommended by the U.S. Centers for Disease Control and Prevention.
Asked Thursday what constitutes an outbreak when looking at reported cases at schools across the state, the governor said its five or more cases.
But, the CDC recommends defining an outbreak as two or more cases. The Illinois Department of Public Health says there are 546 schools with potential exposure, many listed with fewer than 5 cases.
Amazon looks to fill 6,000 jobs in Illinois
Amazon is looking to fill 6,000 jobs in Illinois.
The company announced the openings at two fulfillment centers in Matteson and Markham, three times as many jobs as originally planned.
Amazon says it will start hiring online on Sept. 10, and the openings will include many white collar jobs as well.