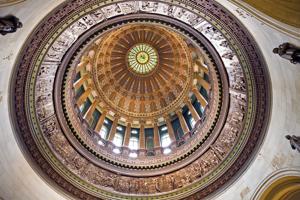 15,400 people in Illinois file for unemployment benefits
Fewer Illinoisans filed for initial unemployment benefits last week than the week before.
The U.S. Department of Labor reports around 15,400 people filed initial claims last week, nearly 6,900 fewer than the prior report.
More than 220 fewer independent contractors filed for continued benefits. Combined, Illinois has 364,800 individuals getting unemployment benefits.
Judge rules against another school's quarantine policies
Another county judge has told a school district it cannot keep kids from school without an official quarantine order from the county public health department.
WICS reported a Macoupin County judge ruled against North Mac School District's quarantine policies.
Students, parents and some staff walked out of school Monday in protest to the school's policy.
The school switched to remote learning, which is also being challenged in the court.
Illinois State Board of Education issues mask guidances for singing, dancing, playing inside
The Illinois State Board of Education issued new guidance this week for schools wanting to go back to remote learning over concerns of COVID-19.
The state agency also issued guidance for students to wear masks while singing, dancing or playing instruments inside.
But, if they play a wind or brass instrument, they should remove their mask while playing with a "bell cover as necessary."
Niemerg says existing state law prevents discrimination based on vaccination status
A Republican state Representative says a state law prohibits people from being discriminated against because of their decision to refuse mandatory COVID-19 vaccines and testing.
State Rep. Adam Niemerg Tuesday night brought up the Health Care Right of Conscience Act, a law enacted in 1997.
The Illinois Education Association in a statement Monday said such arguments are misinformation and there's no legal precedent established under the act.
Illinois woman in jail in Hawaii over allegations of fake vaccine card
An Illinois woman is in jail in Hawaii accused of presenting a fake COVID-19 vaccination card.
According to Hawaii News Now, 24-year-old Chloe Mrozak went about her weeklong vacation and when she arrived to fly back home, police in Hawaii were waiting for her.
Screeners said the big tip-off was the name of the vaccine, Moderna, was misspelled. It said "Maderna." Upon checking, investigators found no trace of her vaccination.
Lead pipe removal could prove costly
Gov. J.B. Pritzker signed a bill to remove and replace lead service lines throughout the state.
The move could cost taxpayers hundreds of millions of dollars while creating thousands of new jobs.
Illinois becomes the second state in the nation to approve legislation to require the replacement of lead drinking water pipes, which can deliver toxic lead in each glass of water.