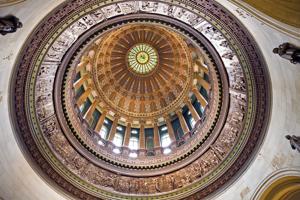 Hearing set in federal lawsuit over state legislative maps
A status hearing today is expected in federal court in a lawsuit over the maps Democrats passed along party lines.
Illinois Republicans sued after maps were enacted in June. Those maps were based on estimates, not final Census data.
Late Tuesday, during a special session, Democrats approved revised maps they say are based on the final Census data released a few weeks ago.
Republicans want a bipartisan commission to draw the new boundaries since it is after the June 30 deadline.
Energy legislation stalls 
A sweeping measure changing aspects of the state energy industry is now up to the Illinois House.
After looking to amend a House bill to send to the House for concurrence, the Illinois Senate passed a Senate bill after midnight. It's unclear when the House will take up the measure.
They could change it and send it back to the Senate.
The governor is looking for a measure to close fossil fuel power and prop up green energy programs.
Lawmakers override Pritzker veto
The Illinois General Assembly voted to override Gov. J.B. Pritzker's veto of a measure impacting the state's ambulances.
The governor said the measure could lead to diminished services. Supporters said the measure was necessary to ensure ambulance services are compensated for certain services.
On the ethics bill the governor suggested changes, the Senate approved, but the House failed to concur before leaving town.
Pritzker optimistic about flattening COVID cases
Gov. J.B. Pritzker is cautiously optimistic about the number of COVID-19 cases and hospitalizations flattening out statewide.
When asked about COVID-19 numbers, the governor said to not jump the gun, but it's "great" to see numbers starting to stabilize.
He said he prays every day that there can be fewer mitigations from his administration, and encouraged people to get vaccinated.
Measure designed to help small businesses save on taxes becomes law
Small businesses in Illinois can take advantage of a change the IRS approved allowing them to file as an entity, rather than on the individual level.
Gov. J.B. Pritzker signed Senate Bill 2531 last week. It allows the workaround of the federal $10,000 state and local tax, or SALT deductions.
The move could help lower the federal tax burden for more than 400,000 Illinois pass-through businesses.
McDonald's asks franchises to close dining rooms
Soon you may have to buy your next Big Mac from the drive-thru window.
The Illinois-based McDonald's Corporation has encouraged its franchises to consider closing indoor dining rooms in areas where COVID-19 infections are surging.
The fast food giant reinstated its mask-wearing requirements for all customers regardless of vaccination status in early August.