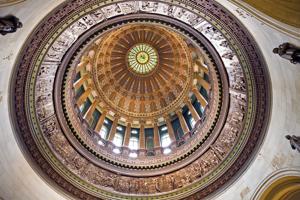 Pritzker mandates vaccines for educators, hospital staff; masks for everyone indoors
Masks will be required indoors in Illinois Monday for anyone over the age of 2.
Gov. J.B. Pritzker also announced vaccine mandates for healthcare workers, educators and college students.
Democratic challenger Beverly Miles had previously opposed mandates, but told WMAY as a nurse she now supports mandating vaccines as cases increase, stressing hospitals.
She said as governor she would bring the legislature back to work collaboratively on issues around COVID-19, something Pritzker wouldn't commit to when asked this week.
Civic groups say Illinois Democrats rushing legislative maps
Hearings about the revised Illinois legislative maps continue today and through the weekend.
The House holds a hearing this morning in Collinsville and two hearings elsewhere Saturday with one hearing Sunday.
The Senate is set to join the House Saturday morning with a separate hearing Saturday afternoon.
Both chambers hold a special session to vote on revised maps Tuesday.
Du Quoin State Fair starts today
The Du Quoin State Fair kicks off today.
The 11-day expo in southern Illinois features agricultural events and product display as well as nightly entertainment from groups like En Vouge, REO Speedwagon and others.
Candidates for governor oppose vaccine mandate
All of the announced candidates vying for their parties' nomination for governor oppose Gov. J.B. Pritzker's vaccine and mask mandate.
Republican Gary Rabine said the governor is acting like a dictator.
Former Republican state Sen. Paul Schimpf said the General Assembly should be called to make such decisions.
State Sen. Darren Bailey said it's "out of control government."
Two people die after courthouse shooting
Two people have died and one was injured in a shooting near the Kankakee County Courthouse Thursday morning.
Kankakee police said two shooting suspects have been taken into custody, noting that multiple firearms were recovered from the scene.
Kankakee School District 111 announced in a Facebook post that all schools were on lockdown "due to a shooting at the courthouse."
Illinois lawmakers weigh in after Kabul attacks
Illinois' congressional delegation is reacting to the attack killing American service members in Afghanistan.
Republican U.S. Rep. Darin LaHood said President Joe Biden must reverse his end-of-month deadline, calling it "arbitrary."
Democratic U.S. Sen. Dick Durbin said any delay on the timetable will open the U.S. up to more dangers.