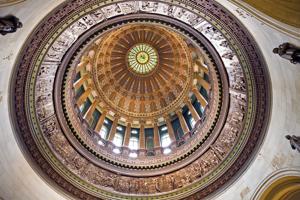 Pritzker announces vaccine mandate for school employees
Illinois K-12 and higher education staff members will have to get vaccinated against COVID-19. Gov. J.B. Pritzker made that announcement Thursday in Chicago.
Republican state Rep. Avery Bourne said the governor is overstepping his bounds because vaccination mandates should be collectively bargained with employee unions and locally elected school boards.
The governor also announced all health professionals must get vaccinated or tested regularly.
Pritzker announces mask mandate starting Monday
Gov. J.B. Pritzker also announced an indoor mask mandate statewide for anyone over the age of 2, starting Monday.
Last year, the governor's first mask emergency rule was repealed after the 12-member bipartisan Joint Committee on Administrative Rules said it was too harsh.
But, the panel allowed a follow-up rule to stand that required businesses to enforce the mandate. After multiple extensions, that rule expired earlier this year.
JCAR could take up the issue of the statewide mandate, and the school mandate, at its next meeting on Sept. 14.
22,000 people in Illinois file for unemployment
Illinois unemployment filings are a mixed bag this week.
The U.S. Department of Labor reported early 22,000 Illinoisans filed for initial unemployment claims last week, more than 3,500 more than filed the week before.
There were around 1,040 independent contractors filing for Pandemic Unemployment Assistance, around 100 fewer than the week before.
Search committee comes together to find next Legislative Inspector General
The search committee to find the next Legislative Inspector General is starting to come together.
Legislative leaders have nominated people to take part in finding who will be the next watchdog of the Illinois General Assembly.
Inspector Carol Pope announced last month she's leaving in October because of the lack of substantive ethics reforms.
She called the office a "paper tiger."
Rally held after SIU student shot
A rally was held in Carbondale in the wake of the fatal shooting of a Southern Illinois University freshman Sunday.
Keeshana Jackson, 18, was shot and killed at a party.
Residents, students and family came together for Southern Illinois Unity Coalition's "Together We Must Stop the Violence Rally" to honor Jackson.
No suspects are in custody.
Downed power lines snarl I-55
Traffic through central Illinois on Interstate 55 was at a standstill for most of the day Wednesday south of Springfield after power lines crossing all lanes came down, shearing the top of a moving truck.
Illinois State Police were diverting both north and southbound lanes to service roads around mile marker 83 after a pickup truck left the highway and knocked down a utility pole.