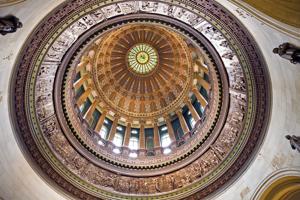 Pritzker signs sex education bill into law
Starting next school year, if your school teaches any kind of sexual education, they'll have to follow certain criteria in all grades, K-12.
Gov. J.B. Pritzker signed the controversial legislation Friday. Supporters said the recommended curriculum is age-appropriate for each grade, but opponents say it goes too far.
Parents can opt their children out. Another measure effective immediately requires schools teaching sex ed to include age-appropriate discussions regarding "sexting."
Illinois will welcome Afghan refugees
As the United States works to evacuate Americans from Afghanistan, there are also thousands of refugees being flown out. Some could come to Illinois.
Gov. J.B. Pritzker posted on Facebook that Illinois will welcome refugees "with open arms."
The governor said the Illinois Emergency Management Agency and the Illinois Department of Human Services are laying the groundwork for resettlement efforts.
Biden picks Rahm Emanuel for ambassador post
Former Chicago Mayor Rahm Emanuel, who also served as chief of staff for former President Barack Obama, has been selected by President Joe Biden to be the U.S. ambassador to Japan.
The announced nomination requires approval from the U.S. Senate.
Ethics complaint continues
An ethics complaint against the Pritzker administration continues despite reports a state agency apologized for opening an investigation into a school board member who opposes mandating masks in schools.
State Sen. Chapin Rose said the Illinois Department of Financial and Professional Regulation closed an investigation and apologized to his constituent, who is a doctor and a school board member.
But, Rose said his ethics complaint about the matter has not been dismissed. IDFRP has not returned messages seeking comment.
Sick inmates have path to compassionate release
Starting Jan. 1, critically ill inmates incarcerated with the Illinois Department of Corrections have a path for compassionate release.
Gov. J.B. Pritzker signed House Bill 3665 on Friday.
The measure, which passed largely along party lines, allows for the discretionary early release of those who are medically incapacitated or terminally ill and serving time in state prison.
Illinois gets low marks for unemployment recovery
While neighboring states are ranked between 12th and 24th best of states recovering jobs, Illinois has the eighth-worst unemployment recovery in the country, according to WalletHub.
The consumer finance website placed Illinois near the bottom with an unemployment rate of 7.1 percent.