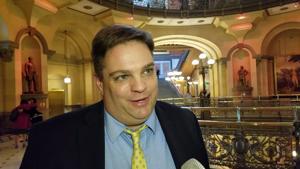 (The Center Square) – An ethics complaint against the Pritzker administration continues despite reports a state agency apologized for opening an investigation into a school board member who opposes mandating masks in schools.
State Sen. Chapin Rose said the Illinois Department of Financial and Professional Regulation closed an investigation and apologized to his constituent, who is a doctor and a school board member.
But, Rose said his ethics complaint over the matter has not been dismissed. IDFRP has not returned messages seeking comment, but provided a statement to Capitol Fax. 
IDFPR Acting Secretary Mario Treto Jr. said after reviewing the case, the agency recommended the case be closed.
"Our preliminary review of this complaint has concluded and the strong recommendation to the Medical Disciplinary Board will be that this complaint be closed. Under current law, only the Medical Disciplinary Board can close a complaint," the statement said. "We are pleased that Governor Pritzker signed Public Act 102-0020 into law, which becomes effective January 1, 2022, and will allow the Department to be able to review and close medical complaints that do not have merit related to a violation of the Medical Practice Act."