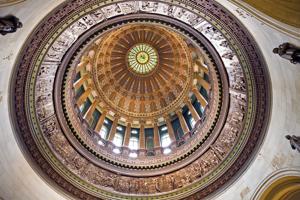 Senate files ethics complaint over license investigation
Illinois state Sen. Chapin Rose has filed an ethics complaint against the Pritzker administration over a state agency investigating a medical doctor's state license for his stance as a school board member on the issue of masking children.
Rose said Gov. J.B. Pritzker needs to denounce the investigation of Dr. Jeremy Henrich and apologize.
Pritzker's office didn't return messages seeking comment.
Republicans hope to pick up seats from Democrats
Illinois Republicans are confident they'll make gains on majority Democrats.
During Republican's Day events at the Illinois State Fair, GOP officials said they defeated the Democrats' progressive income tax amendment last election and are gaining ground on key issues like law and order.
They also say they'll remind voters of the ongoing corruption probes of some former Democrat lawmakers
State Fair to end Sunday with Family Day
Friday is First Responder Day at the Illinois State Fair in Springfield.
All police officers, firefighters, EMTs and health care workers who present their badges at the gate get in for free.
There's also a drone racing competition among other activities and entertainment.
Saturday is Park District Conservation Day and the final day is Sunday with Family Day.
Hundreds gather to honor fallen Chicago Police Officer
Hundreds gathered at a Chicago chapel Thursday to pay tribute to fallen police officer Ella French, a 29-year-old shot and killed in the line of duty during a traffic stop.
The private service drew attendance from hundreds of officers and public officials, including Chicago Mayor Lori Lightfoot.
With temperatures near 90, the Chicago Fire Department provided a cooling bus, but at least five people were brought to the hospital after becoming faint.
19,000 people file for unemployment benefits in Illinois
Fewer people in Illinois filed for initial unemployment claims from the week before, but overall those getting sustained benefits have increased.
The U.S. Department of Labor reports around 19,000 people filed initial claims, around 3,600 fewer than the week before.
But, overall, there are a total of 392,680 beneficiaries with continued claims, nearly 13,500 more than the week before.
Pritzker signs legislation to protect immigrants, refugees
Gov. J.B. Pritzker signed legislation Thursday his office says protects immigrant and refugee communities.
In signing House bills 709 and 2790, the governor said Illinois is further cementing itself as "the most welcoming state in the nation."
The measures assist immigrant residents in Cook County with legal representation and launch a statewide public information campaign for immigrants to know their rights.