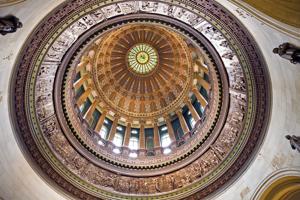 Federal funds partly drive Illinois credit upgrade, S&P says
Credit rating agency S&P Global Ratings upgraded Illinois' rating from triple-B-minus (BBB-) to triple-B (BBB) Thursday, saying the state's finances were assisted by non-budgeted federal taxpayer funds.
Despite the state's rating still hovering above junk status, Democrats praised the upgrade.
Senate Minority Leader Dan McConchie said the majority party hasn't addressed structural issues and is overly reliant on federal funds.
State announces first batch of vaccine lottery winners
Two of the four winners of Thursday's vaccine lottery drawing in Illinois were from Chicago.
The first in a series of drawings through the next few months included a $1 million prize for an unidentified vaccinated adult in Chicago.
Three other prizes of $150,000 scholarships each went to youths who have been vaccinated, one in Chicago, one in Suburban Cook County and one in DeKalb County.
The next drawing is on July 12.
IHSA working on statewide football schedule
It will likely take another week for the Illinois High School Association to post a cumulative statewide football schedule.
After saying Thursday the association would announce the schedules Friday morning, the group announced a delay because many schools schedules are still incomplete.
When complete, details will be posted at IHSA.org.
The previous fall season was postponed to the spring of this year because of Gov. J.B. Pritzker's prohibition of contact sports last year out of concern of spreading COVID-19.
Both the governor and IHSA are defendants in an equal protection lawsuit challenging last year's prohibition. That case is pending in the courts.
Pritzker rallies for immigration reform
Gov. J.B. Pritzker rallied with immigration reform activists in Chicago on Thursday, promising to sign legislation to further limit state and local law enforcement working with federal immigration officials.
During a speech in front of the Illinois Coalition for Immigrant and Refugee Rights, Pritzker said he's committed to working with activists to "ensure that the Illinois Way Forward Act is signed into law."
Senate Bill 667 is on his desk.
Teacher of the Year takes year-long sabbatical
This year's Illinois Teacher of the Year is being granted a year-long paid sabbatical.
The Illinois State Board of Education announced Justin Johnson will get paid to focus on inspiring and partnering with educators through speaking engagements, "equity-focused professional development" and career guidance.