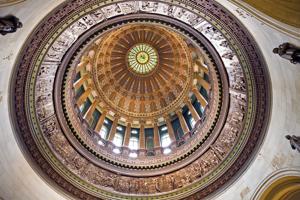 Schools review state guidances before fall semester
Schools across the state are reviewing new guidance state officials released reflecting new CDC guidelines announced Friday.
The guidance lays out vaccinated staff and students don't need to wear a mask but the unvaccinated should.
Some parents worry that will lead to discrimination against students and staff based on medical status. The guidance says schools should layer mitigation where appropriate with a focus on full in-person education.
Brown to meet with Biden
Chicago's police superintendent is expected to meet with President Joe Biden and others today.
The Chicago Sun-Times reports Superintendent David Brown will meet with Biden, Washington D.C.'s mayor and the Democratic nominee for the city of New York.
Chicago has experienced continued fatal gun violence.
Pritzker signs 50 bills in to law
Among more than 50 measures the governor signed into law Friday several impact school-aged kids, effective immediately.
House Bill 120 allows student-athletes to modify their uniforms in accordance with their religious or cultural preference.
House Bill 234 requires public high schools to have a media literacy course.
And, children attending summer camp will be allowed to be administered medical cannabis-infused products under House Bill 3139.
More bills await governor's signature
Gov. J.B. Pritzker signed more than 50 bills Friday. He's been working through more than 650 bills legislators passed through both chambers in the spring legislative session. He's already signed dozens he's been sent. There are still more than 500 bills he has to work through.
House Bill 376 lays out that starting Jan. 1, 2022, Illinois will be the first state in the nation to require schools to teach about Asian American history.
Law allows youth to operate lemonade stands without permit 
Youth lemonade stands in Illinois will be free to operate without a permit, but not until after the new year.
Gov. J.B. Pritzker signed Senate Bill 119 Friday that allows lemonade stands run by anyone younger than 16 to do so without getting approval from local public health officials.
The measure doesn't go into effect until Jan. 1, 2022.
141 people in Illinois die from breakthrough COVID-19 cases after full vaccination
For all of last week, Illinois public health officials reported 2,945 COVID-19 cases and 53 additional deaths.
As of Friday's latest report, there have been a total of 228 cases of the Delta variant in the state since the state's been tracking the different mutations.
As for cases of people getting COVID-19 despite being vaccinated, the state reports 518 people with breakthrough cases have been hospitalized and 141 died since the beginning of the year.