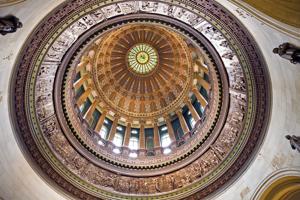 Business, labor groups say energy plan could cost $700 million
A group featuring business and labor organizations say an energy proposal at the Illinois statehouse could increase electric rates for both business and residential customers by $700 million.
Illinois Manufacturers' Association's Mark Denzler said that will lead to limited investment and jobs because of increased costs.
Denzler also said the group has not been included in ongoing discussions or shown any projections about the impacts of changing energy policy in the state.
Judge denies motion for summary judgment in COVID-19 order challenge
A Sangamon County judge has denied a motion for summary judgment against Gov. J.B. Pritzker's COVID-19 orders impacting youth sports.
Last week Circuit Court Judge Raylene Grischow denied the governor's motion to dismiss, giving him a July 16 deadline to respond to plaintiffs.
But, Thursday, Grischow said plaintiffs still have to prove the governor's actions violated equal protection rights of youth athletes.
The plaintiffs' attorney says they're reviewing Grischow's filing.
20,250 people in Illinois file for unemployment benefits
Nearly 20,250 Illinoisans filed for initial unemployment claims last week.
That's a decrease of more than 3,000 from the week before. There were nearly 3,100 independent contractors filing for Pandemic Unemployment Assistance last week, nearly 4,500 fewer than the week before.
Combined, the state has more than 463,000 unemployment filers.
Speedy trials to resume in Illinois on Oct. 1
The U.S. Constitution requires speedy trials in the Sixth Amendment of the Bill of Rights, but that hasn't been happening in Illinois because of government restrictions.
Speedy trials must resume beginning on Oct. 1.  COVID-19 social distancing requirements will be relaxed by orders of the Illinois Supreme Court.
Chief Justice Anne Burke said courts have been open during COVID-19 but conducting criminal trials "has been very difficult."
Bill would allow for SALT deduction workaround for small businesses
A bill on Gov. J.B. Pritzker's desk could help small business owners save money on their taxes.
Senate Bill 2531 allows small business owners to work around a $10,000 state and local tax cap.
The Illinois Chamber of Commerce also supported the bill as something that will help business owners. If signed, the legislation becomes effective immediately.
Holds on bills lifted
Two major bills that passed the legislature that lawmakers put a legislative hold on are now freed to be sent to the governor.
On Tuesday, state Rep. Natalie Manley lifted her hold on House Bill 562, which impacts the state's FOID card and makes fingerprints optional.
On Wednesday, state Rep. Delia Ramirez lifted her hold on a bill that would bring about an elected board for Chicago Public Schools. Those have yet to be sent as there are 615 bills awaiting the governor's action.