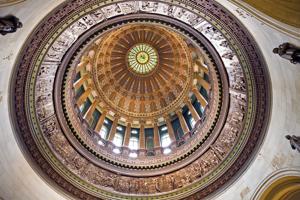 Lawmakers eye bill with $700 million in subsidies for nuclear plants
Illinois lawmakers are poised to approve a bill with nearly $700 million in subsidies over five years for nuclear power while shutting down coal-fired plants by 2035 and natural gas power by 2045.
A Pritzker administration memo published by a political blog outlines what is expected to be an 800-page measure.
The proposal also has $4,000 subsidies for electric vehicle consumers with a goal to get 1 million electric cars on Illinois roads by 2030.
Murphy raises concerns about plan to close coal plants
Those in areas of the state reliant on coal-fired power continue their criticism of the governor's push to end the source of energy by 2035.
Springfield Republican state Rep. Mike Murphy said the governor's proposal propping up nuclear power with hundreds of millions in subsidies while closing coal power could mean downstate Illinois experiences less reliability and increased electric costs.
Lawmakers return to Springfield next week
The Illinois Senate will be back in session Tuesday to take up the governor's proposed energy deal. The House will be in on Wednesday.
This is not a special session, which means lawmakers could continue to approve measures they didn't resolve before leaving the capital city ten days ago. But, any legislation with an immediate start date would require three-fifths approval of each chamber.
Illinois reopens
"You did it, Illinois." That's Gov. J.B. Pritzker's message as he lifts COVID-19 capacity restrictions on economic activity he implemented 15 months ago.
While starting today there are no capacity restrictions, businesses can still require masks for unvaccinated people.
There are also mask requirements for public transportation, medical facilities, correctional facilities, schools and day care centers.
Unemployment continues to increase in Illinois
Illinois continues to see an increase in the number of new unemployment filers.
The U.S. Department of Labor Thursday reports more than 29,000 initial unemployment claims were filed last week.
That's nearly 5,500 more than filed the week before. Another 5,500 independent contractors claiming Pandemic Unemployment Assistance filed, around 1,000 more than the week before.
Casino developers must enter project labor agreements under new law
Developers applying for new casinos, or renewing their license in the state of Illinois must enter project labor agreements under a new law Gov. J.B. Pritzker signed Thursday.
The law, effective immediately, requires casino license applications to cover wages and benefits in such agreements when they apply.