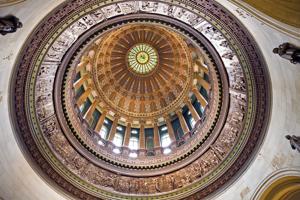 Judge denies temporary injunction in FOID case
A federal judge in Chicago says those suing the state over excessive delays in processing Firearm Owner's Identification cards are not likely prevail in their case.
Judge Mary M. Rowland of the Northern District of Illinois denied a motion for a preliminary injunction against the state over delays Illinois State Police admits are four times longer than allowed by law.
Attorneys for the plaintiffs say they will continue to fight the case in the courts.
Food prices climb as trucking companies look for drivers
The cost of a steak to put on the grill continues to escalate and it is largely due to a shortage of truck drivers in Illinois and the rest of the country.
The shortage began before the COVID-19 pandemic and is getting worse. The Illinois Trucking Association recently conducted a survey of companies around the state, and 97% said they were short of truck drivers.
Sports wagering in Illinois declines
Illinois saw a dip in sports betting last month, but still ranked second in the nation for overall bets made.
Industry group, PlayIllinois.com says the steepest month-over-month decline in sports betting, but still saw more than $500 million wagered.
The group says the decline in wagering is in line with a typical seasonal slowdown in sports betting that impacted nearly every U.S. market.
Republicans file federal lawsuit over Pritzker-enacted maps
Illinois statehouse Republican leaders have sued their Democratic counterparts in federal court to block the recently enacted legislative maps Gov. J.B. Pritzker signed last week.
The lawsuit alleges using American Community Survey data instead of the full Census data is unconstitutional.
Democrats expected the lawsuit and said Republicans are trying to stifle their work, calling the maps diverse and true representation for Illinois.
Madigan may have been secretly recorded
Former Illinois House Speaker Michael Madigan may have been captured on secret audio and video recordings.
The Chicago Tribune reports former Chicago Alderman Daniel Solis recorded Madigan on numerous occasions as the speaker allegedly sought business for his private law firm.
When asked in 2019 by Illinois Radio Network about the possibility of being captured on undercover recordings, Madigan responded "it's a tough world we live in."
State looks to expand COVID-19 testing in schools
State public health officials are expanding a COVID-19 testing program for elementary schools across the state.
Tests are free for districts considered low-income with high rates of COVID-19 infection. They're $10 per test for other schools.
The state is utilizing the covidSHIELD test developed by the University of Illinois.