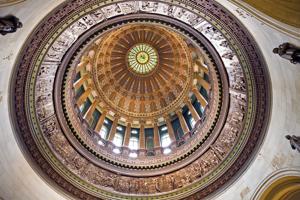 Deal closing coal, subsidizing nuclear power expected next week
With an energy deal expected to be revealed later this week that could include regulations closing down coal-fired power plants by 2035 and a deal to keep nuclear plants open, state lawmakers will return to Springfield next week.
The Illinois Senate will be in Tuesday. The House will be in Wednesday.
Other than an energy deal, lawmakers could also take up other legislation.
Illinois gets low marks on employment growth
Illinois is the seventh-worst state for jobs, according to WalletHub. The consumer finance website reviewed factors among all states and for average commute time, Illinois ranked 45th.
For employment growth, Illinois ranked 43rd. The state also ranked low for job opportunities, job satisfaction and unemployment rate.
The state did land 18th for average length of the work week.
Restaurants plan for post-pandemic future
With plans to lift all COVID-19 capacity restrictions Friday, many Illinois restaurants didn't survive, while others stayed afloat with government funding while offering curbside pickup.
The Illinois Restaurant Association estimated 20% of the restaurants closed permanently.
For those that remain, one of the biggest obstacles facing eateries right now is a shortage of workers.
Lawmakers say Pritzker should stop executive orders in Phase 5
If the state is really restored, the governor should stop issuing COVID-19 executive orders.
That's what more than two-dozen members of the Illinois General Assembly say in a letter to Gov. J.B. Pritzker Tuesday as the state inches toward the June 11 start of Phase 5 of his COVID-19 reopening plan.
Pritzker's latest 30-day COVID-19 disaster declaration is his 18th and expires June 28. He's filed dozens of executive orders in the past 18 months.
Juneteeth could soon be a state holiday
Gov. J.B. Pritzker could soon act on a bill making Juneteeth a state holiday.
June 19 marks the day in 1865 when the Union Army proclaimed slavery was abolished in Texas. Senate Bill 1965 would make June 19, or the following Monday if it falls on a Sunday, a state holiday.
A fiscal note on the bill says state employee salaries would still be paid, but there would be productivity loss to the tune of $11.3 million.
Illinois Caverns to reopen
They weren't closed because of COVID-19, but they'll reopen next week.
The Illinois Department of Natural Resources announced Illinois Caverns in southern Illinois and caves managed by the state, will reopen Wednesday, June 16.
The caves have been closed for more than ten years to stop the spread of White-nose Syndrome amid cave-dwelling bats.