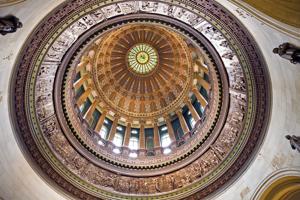 23,000 people in Illinois file for unemployment benefits
Another 23,000 Illinoisans filed for initial unemployment claims last week, an increase of nearly 3,200 from the week prior.
The U.S. Department of Labor also reports another nearly 4,600 independent contractors filed for benefits, an increase of more than 1,000 from the week before.
In total, there are an estimated 425,300 Illinoisans getting unemployment benefits.
Pritzker plans to maintain status quo for unemployment benefits
While half the states in the country have ended or plan to end extended unemployment benefits, including several neighboring states, Gov. J.B. Pritzker maintains the status quo in Illinois. Pritzker said people aren't going back to work because they're afraid of COVID-19, despite vaccines being widely available.
He also said some may not want to take jobs they feel won't help pay their bills.
Dispensaries sold $116.4 million in cannabis products in May
Illinois' limited adult-use cannabis stores sold another $116.4 million in the month of May.
That's up around $1.4 million from April. Total since January this year is more than $509 million. From January through April, the state has collected nearly $121 million in taxes.
That's split with a third going to general funds and a quarter to community groups in certain areas. The rest is distributed between unpaid bills, police and public safety campaigns.
Lawmakers consider subsidies for nuclear plants
There may be hundreds of millions of dollars in subsidies for nuclear plants but nothing for coal-fired plants with extended bond payments that may be cut off early in a move to end fossil fuel energy by 2035.
Senate President Don Harmon said he's not familiar with all the specifics of the deal, but acknowledged the shadow of corruption over Exelon subsidiary ComEd from the bribery scheme implicating the former House speaker the utility admitted to.
Gov. J.B. Pritzker expects lawmakers to meet "very briefly" once the energy deal is in bill form.
Denial vacated in Pritzker legal challenge 
After first issuing a denial of Gov. J.B. Pritzker's motion to dismiss a case challenging his COVID-19 restrictions on youth sports while letting college and pro teams play, a Sangamon County Judge Wednesday vacated the order.
Judge Reylene Grischow gave the Pritzker administration until June 7 to file a response supporting their motion to dismiss the case.
Home privacy bill poised for governor's desk
It's onto the governor's desk with a bill requiring law enforcement to get a search warrant to access in-home technology such as doorbell cameras and smart speakers.
House Bill 2553 passed both chambers last month.
Peter Hanna of the ACLU has urged Gov. J.B. Pritzker to sign House Bill 2553 right away.