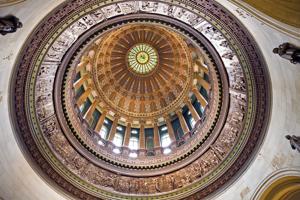 Budget on hold
Illinois lawmakers passed the annual budget in the early morning hours Tuesday, but the Senate President filed a procedural hold, keeping it from advancing.
The $42 billion spending plan decreases a variety of tax incentive programs employer groups say equates to more than $600 million in tax increases.
The measure, which includes around $2.5 billion in federal COVID-relief funds, also increases lawmaker salaries.
It does not pay down the state's $5 billion debt in the Unemployment Insurance Trust Fund.
Ethics package passes, but some want stricter measures
Ethics reform passed the statehouse, but some are already looking for stricter measures to hold lawmakers accountable.
In the final hours of the legislative session, the measures include a six-month prohibition on lawmakers becoming lobbyists, but some criticized that as not going far enough.
There's also more independence for the Legislative Inspector General to investigate claims against lawmakers.
FOID fix fails to advance
Despite a measure supported by Illinois State Police to streamline aspects of the state's Firearm Owner's Identification Card passing the Senate, it did not advance in the House.
The Senate version would have made fingerprints optional for automatic FOID renewal. The House version required fingerprints.
Tens of thousands of Illinoisans' FOID card applications are backlogged. There are around a dozen lawsuits
Trailer tax fix next heads to the governor
It's on to the governor's desk with a measure that decreases the tax on certain trailers many Illinois drivers use to tow everything lawn equipment to motorcycles.
The annual trailer fee increased from $18 to $118 two years ago because of what some lawmakers said was a "drafting error."
After an outpour of constituent contacts, lawmakers passed a bill dropping the tax from $118 to $36, but it increases the title transfer fee by $5 to $155.
New measure would allow Illinois residents to bet on Illinois college teams
Illinoisans could soon be betting on Illinois college teams under a proposed gambling expansion bill.
A sweeping bill bringing about a variety of changes to the state's gambling laws allows people to bet in-person on college sports, but not on the performance of individual players.
Opponents of the move said that could still put college players in harm's way by bettors upset if they lose.
Primary elections could be delayed
Lawmakers are looking to delay the March 2022 primary to late June.
A measure that advanced at the statehouse would also allow for people to permanently register for mail-in ballots and allow people with disabilities to cast a vote using an online vote-by-mail system.
Republicans worried the measure is too expansive.