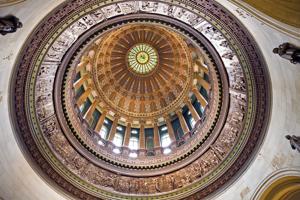 Illinois primary could be pushed back
Illinois' March primary elections could be pushed back.
Multiple news outlets are reporting that state lawmakers are considering changing the date of the spring election in 2022 and moving it back to some time in the summer.
The U.S. Census isn't likely to release data the state needs to lawfully draw political boundaries until Sept. 30, which is after candidates should be gathering signatures for office.
Illinois GOP accuses Pritzker of parole board manipulation
Illinois Senate Republicans say Gov. J.B. Pritzker is using a loophole to shield his appointees that grant prisoners parole from scrutiny. T
hree lawmakers said Monday that Pritzker hasn't allowed any of his appointees to face lawmaker consideration, something required in the state constitution.
IDPH reports 933 new cases of COVID-19
The Illinois Department of Public Health reported 933 new cases of COVID-19 Monday.
They say 48% of the state's population has been vaccinated against the virus.
The state has seen more than 1.3 million positive COVID-19 diagnoses and officials tie the virus to 2,633 deaths.