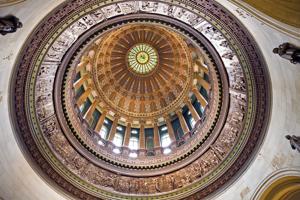 Democrats release legislative maps
Illinois Democrats are catching heat for releasing their once-in-a-decade redraw of the state's political boundaries using unofficial numbers on a Friday evening.
The state's Democratic political leaders say the rearrangement of the lines represent an equitable redraw.
Republicans are crying foul, saying the majority party dumped the maps on a Friday night to get the least amount of attention.
Several GOP lawmakers spoke out against the move Monday morning.
State budget deadline nears
Illinois has one week left before lawmakers must produce a budget.
Lawmakers have a May 31 deadline to send Gov. J.B. Pritzker a budget for the coming fiscal year that begins July 1.
If they miss that deadline, they need a higher vote threshold to pass the bills.
Report ranks Illinois near bottom of nation on taxes
A new report found Illinois is among the worst states in the country when it comes to the tax burdens faced by businesses.
The recent "Location Matters" study, published by the Tax Foundation, calculated and analyzed the tax costs of eight model firms in every state.
Illinois' high-income tax rates contributed to their low ranking.