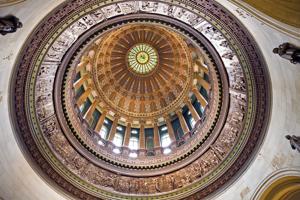 Democrats agree to pay off short-term borrowing
The state's leading Democratic budgeteers have agreed to pay off $2 billion in short-term borrowing with the state's better-than-expected revenues.
The state borrowed $3.2 billion from a federal fund during the pandemic.
Gov. J.B. Pritzker wanted to use federal COVID-19 relief to pay the debt, but that's not permitted by federal guidance. His office Thursday said with stronger revenues than originally projected, they can pay down some of that debt.
Lawmakers take the weekend off
The Illinois legislature is taking the weekend off, but when they return Monday, there'll be just 8 days for them to pass a budget and any other legislation with simple majorities.
If lawmakers don't pass a Democrat-drawn map by May 31, it's expected they'll have to return for a special session to pass a map by a June 30 deadline.
Bill seeks feminine hygiene products in all student bathrooms 
A measure headed to the Illinois Senate would require feminine hygiene products be put in all bathrooms for students from 4th through 12th grades.
The measure didn't pass without debate. Republican State Rep. Andrew Chesney said there's no reason for the products to be put in boys' bathrooms.
Democratic state Rep. Kathleen Willis said there could be young people born female who identify as a male who would benefit from the mandate.
The bill is House Bill 156.
SALT measure heads to governor
It's onto the governor with a measure to allow certain businesses to deduct Illinois' high state and local taxes when filing federal tax returns.
Senate Bill 2531 passed the House unanimously Thursday after passing the Senate last month unanimously.
Sponsors of the bill say the measure is revenue neutral to the state, as it only impacts federal tax returns.
Legislative maps expected soon
Illinois House Democrats say they expect to release their proposed legislative redistricting maps soon, but they still can't say specifically when or what data is being used.
State Rep. Elizabeth Hernandez said they're working to compile all the data, but wasn't specific. S
he said a lawsuit over what data is used for the maps is expected.
Supreme Court makes decision in Mautino case
The Illinois Supreme Court found the campaign for a former state Representative turned Illinois Auditor General violated campaign finance law.
The 2016 case alleged Frank Mautino improperly used campaign funds from when he was a state lawmaker for vehicle repairs and gas when it should have only provided mileage reimbursement.
The attorney for the plaintiff who brought the case said Illinois taxpayers and voters deserve honesty from their elected and appointed government officials.