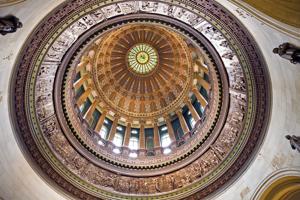 Republicans call for more accountability
Republicans continue to call for more accountability from Gov. J.B. Pritzker's administration on how it handled COVID-19 at state-run veterans' facilities.
While 36 residents of the LaSalle Veterans' Home died of COVID-19 last fall, Republicans say there are a total of 76 veterans across all the state-run homes that died of COVID during the pandemic, which requires more scrutiny.
Bill would allow principals in Chicago to unionize
A House bill to be heard in a Senate committee this afternoon would allow for principals in Chicago to unionize.
House Bill 3496 is up for consideration in the Senate Executive Committee after passing the House along party lines last month.
Another measure the committee will take up would bring about an elected board for Chicago Public Schools.
Mask use to continue for lawmakers 
Despite the state's rules on masks being relaxed for those who are vaccinated, face coverings continue to be mandated on the floor of the Illinois House and Senate.
Several lawmakers were told to wear their masks per chamber rules, but Republican state Rep. Mark Batinick said it's time to show leadership and lift the rule.
Democratic state Rep. Natalie Manley said they're still not safe from COVID-19 and thanked the Speaker for keeping the mask rule in place.
Illinois State Board of Education to vote on in-person classes
The Illinois State Board of Education is scheduled to vote today on whether to mandate fully in-person classes next school year.
An ISBE resolution would also allow limited exceptions for remote learning in cases for students who are not eligible for a COVID-19 vaccine and are under a quarantine order by a local public health department.
The resolution also references studies that support in-person learning for more positive academic outcomes.
Banks drop mask rules
After more than a year of mandating masks when going into a bank lobby in Illinois, fully vaccinated people can deposit or withdraw in person without a face covering.
Ben Jackson with the Illinois Bankers said bank lobbies are being treated similarly to retail stores.
The governor's new guidance says retail locations must still have signage that unvaccinated people must still wear a mask and practice social distancing.
Lollapalooza is back
After being canceled last year because of the COVID-19 pandemic, the Chicago music festival Lollapalooza is back on.
Chicago Mayor Lori Lightfoot released a video of her calling festival organizer Perry Farrell of the band Jane's Addiction telling him the festival is set for July 29 through Aug. 1.
However, attendees must show proof of COVID-19 vaccination or a negative COVID-19 test.