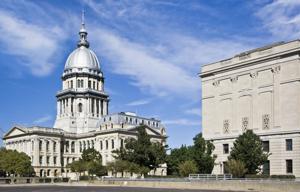 (The Center Square) – Hundreds of millions of federal tax dollars for rental assistance are being freed up in Illinois, but some worry certain areas will take precedent despite all areas being negatively impacted by the pandemic and the ongoing eviction moratorium.
For weeks the Illinois Housing Development Authority has said a program is coming to help pay landlords back rent as an eviction moratorium continues. Monday, the program launched as the governor announced the moratorium will end in August.
In Chicago, Gov. J.B. Pritkzer signed House Bill 2877, which outlines how hundreds of millions of dollars will be administered to ultimately pay back rent for tens of thousands of tenants in arrears.
"This program ensures that funding is distributed in an equitable manner, reaching those who need it most," Pritzker said. "This is new assistance that's come in since the [American Rescue Plan] was passed and the General Assembly has helped to shape that program and that's what we're announcing today."
Paul Arena, with the Illinois Rental Property Owners Association, said the organization's main concern is the dollars may be shifted away from some areas in favor of others, despite the universal eviction moratorium.
"All of the state has been affected equally by the moratorium and the bill specifies that money should be prioritized in areas with the greatest impact, and that is undefined," Arena said. "So we don't know what the effect of that will be."
Another major element in the bill Arena's group opposed impacts how landlords can vet potential tenants.
"The greatest impact of this bill is this sealing of eviction records," Arena said. "Allowing the people who were dangerous and destructive, to conceal their behavior from future landlords."
The program will help directly pay landlords up to $25,000 for back rent and prepay through August.
Pritzker's office laid out other parameters of the bill:
The household must have experienced a financial hardship directly or indirectly due to the pandemic.
The 2020 household income was below 80% of the Area Median Income (AMI), adjusted for household size.
The household lives in Illinois and rents their home as their primary residence.
The household must have an unpaid rent balance.
Priority will be given to households earning less than 50% of AMI and to households with one or more members that have been unemployed for at least 90 days.
Applications are open now through June 7. Program details and applications will be made available at the Illinois Housing Development Authority's website at IHDA.org.